Jaguar Land Rover launches cabin noise cancelling system
System from Jaguar Land Rover works similar to active noise cancelling on a pair of high-end headphones, to reduce wind and tyre noise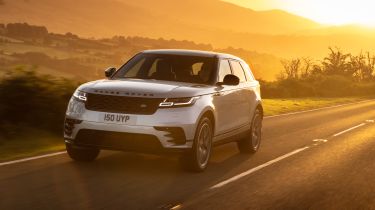 Jaguar Land Rover (JLR) has revealed a new noise cancelling system for the Jaguar F-Pace, XF and Range Rover Velar, which the company says can reduce the amount of unwanted noise heard in the cabin by as much as 10dB.
JLR says that exposure to low-frequency noises up 300Hz in amplitude – for example, tyre roar and wind noise – can cause driver fatigue, which can increase reaction time by almost 17 percent and make it harder for the driver to deal with road hazards.
To iron out some of these low-frequency sounds, JLR's new active noise cancelling system uses microphones mounted on each wheel to record the intrusive background noise heard by the occupants in real time.
Software calculates the exact opposite phase sound wave and plays it through the car's speakers to cancel out the drone. As the system is adaptive, it will also automatically correct the noise as the road surface, wind speed or weather conditions change. 
Jaguar Land Rover says this technology is particularly useful in its electrified vehicles, such as the Jaguar F-Pace and Range Rover Velar P400e plug-in hybrids and the fully electric Jaguar I-Pace. Road and wind noise is far more noticeable when operating in electric-only mode, as the sound of a combustion engine helps mask intrusive sounds.
Dr Steve Iley, Jaguar Land Rover's chief medical officer, said: "active road noise cancellation technology not only has the potential to improve road safety but also wellbeing and quality of life for our customers.
"In a post-coronavirus world, where a 'new normal' is emerging, we expect customer expectations of private transport to change. An extra focus will be placed on safe, clean mobility where personal space, wellbeing and hygiene carry a premium."
Recently, Jaguar Land Rover has been pushing hard to improve its interior technology. This new noise cancelling system was preceded by an improved cabin filtration system, a 3D head-up display and an all-new contactless touchscreen infotainment system, which the manufacturer co-developed with the University of Cambridge.
What do you make of JLR's new active noise cancellation technology? Let us know in the comments section below…