The end of touchscreens? Jaguar Land Rover develops contactless infotainment
JLR's predictive touch software uses sensors and artificial intelligence to control the infotainment screen without contact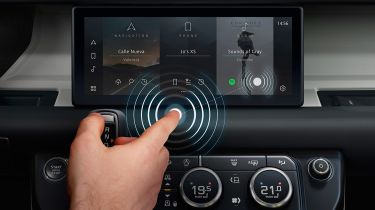 Jaguar Land Rover has teamed up with the University of Cambridge to produce an all-new, 'contactless touchscreen' infotainment system, which the firm claims can keep drivers focused on the road and limit the spread of bacteria and viruses.
The technology pairs JLR's new infotainment screen for the Defender with an array of driver monitoring sensors – including a vision-based gesture tracker, an eye-gaze tracker and radio frequency-based sensors.
Drivers can select functions by hovering their finger roughly over the correct widget on the touchscreen and the car's artificial intelligence system will figure out the user's intent, even if they're being thrashed about the cabin by potholes, pockmarks or speed bumps.
Lab tests and on-road trials have shown that JLR's predictive touch technology could reduce the amount of time a driver spends physically interacting with the infotainment screen by as much as 50 percent, in theory, increasing the amount of time spent looking at the road and decreasing the risk of an accident.
Jaguar Land Rover also says its new contactless infotainment system could offer sanitation benefits, by removing the physical connection between the driver and screen and reducing the spread of germs and bacteria. 
Professor Simon Godsill, from Cambridge University's Department of Engineering, worked with JLR on the project. He said: "Touchscreens and other interactive displays are something most people use multiple times per day, but they can be difficult to use while in motion, whether that's driving a car or changing the music on your phone while you're running. 
He continued, mentioning some of the health benefits the system could provide, stating: "We also know that certain pathogens can be transmitted via surfaces, so this technology could help reduce the risk for that type of transmission."
This new infotainment concept forms part of Jaguar Land Rover's Destination Zero vision, which is the company's self-made aim of making its vehicles safer and kinder to the environment. 
It joins JLR's new Smart Wallet pothole signalling system, 3D head-up display and cabin air ionisation system, as fitted to the latest Range Rover and Range Rover Sport.
What do you make of JLR's new contactless infotainment system? Let us know in the comments section…