'Jaguar Land Rover ranks as one of the most daring car firms on the planet'
JLR is giving rivals a real lesson in creativity, along with taking care of costly third-party activities, says Mike Rutherford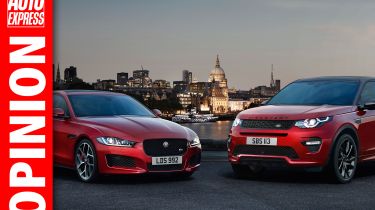 I've long argued that major motor manufacturing groups should do more than build engines and cars.
When I was invited to Rick Wagoner's office in Detroit, the then boss of General Motors complained to me that he was forced to spend more on hospital bills for employees than on steel for cars. 
I suggested to him that he could drastically cut his corporate medical and drugs bills by building his own hospitals staffed by GM-employed doctors and nurses. He responded by telling me he'd investigate this. Sadly, he lost his job a few months later – partly because those employee healthcare costs helped bankrupt his giant corporation.
• 'The Jaguar F-Pace lives up to the hype, and is a fitting tribute'
I had a similar one-to-one with VW Group Director Heinz-Jakob Neusser last year. He complained that electric vehicle makers are being let down by the battery industry. I dared to tell him that he should perhaps adopt the Samsung system whereby the manufacturer installs state-of-the-art batteries designed and built in-house. His almost angry reaction was VW didn't have the time, personnel or inclination to get involved in such. Interestingly, Neusser is no longer employed by the German auto giant. Enough said. 
On a happier note, Tata-owned Jaguar Land Rover is already taking care of some costly third-party activities – by producing its own steel, for example. But what I witnessed when I dropped in on JLR at the New York Motor Show is a reborn company tearing up the rule book.
• 'JLR's growth is an unprecedented breakthrough for UK PLC'
It's giving rivals a real lesson in creativity by building new Jags on old chassis found languishing at the factory. And the announcement that it'll source E-Types in all corners of the world before rebuilding them here is inspired – and lucrative business. Additionally, there's a promise that old Land Rovers will be dragged out of ditches in Australia and the deserts of Africa then brought back to life in Solihull. This is another masterstroke. And the firm has plenty of other unusual ideas up its sleeve.
This brave new JLR business model could and should be the start of something very, very big. It's another case of a British-based company showing the rest of the world how to do it. "We really have thought of everything," a senior Jag employee assured me. And while that may be a tad ambitious, I get where he's coming from. Fast-expanding JLR now ranks as one of the most daring and confident car firms on the planet.
What do you think of Jaguar Land Rover's progress? Leave us a comment below!