'The Jaguar F-Pace lives up to the hype, and is a fitting tribute'
The new F-Pace stands out but we're reminded that it's people who make the car industry great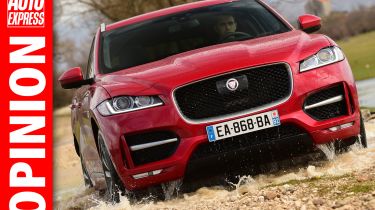 We've driven one of the most eagerly awaited cars of recent times this week, Jaguar's much hyped entry into the thriving SUV market, the F-Pace. And the exciting news is that according to our news editor Richard Ingram, who put it to the test, it's extremely good indeed. 
"Beautifully controlled on a twisty road, and cleverly packaged, too," was his verdict, which will come as a relief to those of us who love the sporty Ian Callum styling and have fervently hoped the car will prove its worth on the road.
Of course, one of the reasons this car has been so keenly anticipated is the masterful pre-launch campaign orchestrated by Jaguar.
In a digital age where news breaks every minute on Twitter, the company has expertly maintained interest over a long period of time with a series of well judged stories, pictures and stunts tracking the F-Pace from concept to production car reality. It's been a wonderful tribute to the innovation and planning of the Jaguar public relations team.
One of the people heavily involved in this process was a man very well known to us here at Auto Express, Jon Morgan. Regular readers may remember how deftly Jon edited our consumer news pages in 2012 and 2013, making a lot of friends along the way, before deciding his career lay elsewhere and ultimately landing a well deserved role in Jaguar's PR team.
Tragically, just prior to this most important of weeks for Jaguar, Jon lost his life in a ski-ing accident in France, bringing into sharp focus yet again that it's the people who make this industry special, not the cars. While we salute the brilliance of the F-Pace, we also remember the warmth, wit and intelligence of a colleague who enriched the life of everyone he came into contact with.