Jaguar weighs up lighter F-Type
Jaguar's Paul Newson says a new, lighter F-Type could use technology from C-X75 concept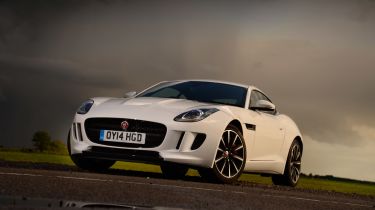 The retro, 567bhp Jaguar Project 7 – revealed at the Goodwood Festival of Speed last week – is the lightest F-Type to date. It weighs 80kg less than the equivalent F-Type Roadster it's based on, but Jaguar won't stop there.
After speaking with Paul Newson, director of JLR's newly formed Special Vehicle Operations division (SVO), Auto Express has learned that a flyweight F-Type is being cooked up, and it could leverage groundbreaking powertrain technology from the stillborn C-X75 hypercar, including its 1.6-litre supercharged and turbocharged engine.
"The Project 7 is 80kg lighter, but there are smaller engines that start from a lower point," Newson said. "Will the Project 7 be the lightest ever? I'm not sure, but we haven't invented it yet."
One bold option to boost the F-Type's power-to-weight ratio is the C-X75's 1.6, which produces 500bhp and revs to 10,000rpm. "We designed that engine for a £1million supercar, so it's extremely expensive. But it could work well," Newson added. "Who can say where we'll go in the future? The world is downsizing with high-pressure engines. In the longer term, we won't be using 5.0-litre V8s."
While the first products from JLR's SVO arm (Project 7 and Range Rover Sport SVR) are nearly here, an SVO source revealed there are "another couple in the pipeline at the beginning of next year, with more to follow". These are understood to be known internally as Project 8, 9 and 10.