"The Jaguar I-Pace is the first salvo across the bows of Tesla"
Deputy editor John McIlroy takes a look at the new Jaguar I-Pace, the British brand's first pure-electric car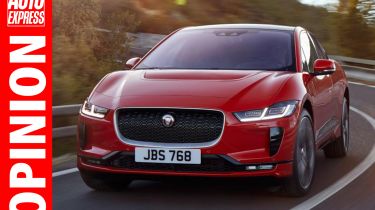 And so it begins. The Jaguar I-Pace, revealed last night via an online presentation heavy on celebrity and heavier still on self-congratulation, is the first salvo across the bows of Tesla from an established, 'premium' manufacturer. The British brand is desperately proud to have brought a pure-electric car of this type to market before Audi or Mercedes. But it's the hype surrounding Tesla that it really wants to tap into. 
The specs look promising - nearly 400bhp and a 0-60mph time of 4.5 seconds. One of the segments during the launch was a video showing the I-Pace taking on - and beating - the Tesla Model X in a race. Range of about 300 miles under the tougher and supposedly more realistic WLTP test cycle should do the trick too - for now, at least. 
• New 2018 Jaguar I-Pace revealed
The I-Pace's styling is arguably one of the best bits of work yet from the company's design director Ian Callum and his team - a mix of curves that have a whiff of C-X75 about them, with a cab-forward design that really takes advantage of the car's longer wheelbase. We had a sneak preview of the I-Pace a few weeks ago and I'm pleased to report it's as striking in the metal as it is in pictures. 
The fascinating unknown, of course, is whether Jaguar - and, one must assume, Audi and Mercedes to follow - can break down the fact that they're not 'left-field' choices like Tesla. Elon Musk's creation has been the only game in town for a while, true, but it has also proven popular at least partially because it is an 'outsider' - almost a tech firm more than an automotive brand. 
Is there significance, then, in the fact that the 'registrations of interest' in the I-Pace number tens of thousands at best - nowhere near the city-population levels enjoyed by the Model 3? Perhaps. But assuming production proceeds as planned at the Magna Steyr facility in Graz, Austria - and Tesla's manufacturing struggles with the Model 3 continue - then it won't be long before the I-Pace has sheer weight of numbers on its side. That's why everyone at Jaguar is so excited about it.
Watch the new Jaguar I-Pace race the Tesla Model X right here...