Jaguar XF Sportbrake 3.0D Portfolio - £41,000-£51,000
Spend another £10,000, and the Jaguar XF is still the best choice for our judges.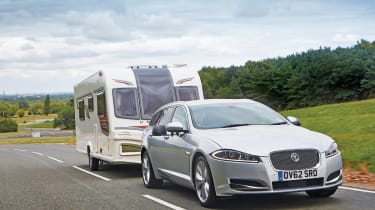 Spend another £10,000, and the Jaguar XF is still the best choice for our judges. But in this price bracket, the elegant Sportbrake estate model comes within reach, and it saw off the two other class contenders here.
The Jag was coupled to the largest caravan available on our test – the six-berth Pegasus GT65 Ancona – and it coped easily with the weight. The smooth V6 diesel, with 237bhp and 500Nm of torque, meant the XF breezed to cruising speed, and its rock-solid stability inspired plenty of confidence.
Again, the eight-speed auto was a delight, helping keep the Sportbrake in the right gear atthe right time on the twisty hill route. Accurate steering and a well balanced rear-drive chassis mean you'll be looking for those twisty roads every time you're at the wheel, too, as the
Sportbrake is surprisingly agile for its size, even with a large caravan behind. And it's no slouch, either, as it sprinted from 40-60mph in an impressive 6.4 seconds with the hefty Pegasus Ancona in tow.
The estate body means there's more space in the rear, and if you fold the seats, the fully carpeted boot's 550-litre capacity rises to 1,675 litres. Our Portfolio-spec test car had a host of standard kit, too, including heated and cooled seats, sat-nav, a soft-close electric tailgate, interior mood lighting and xenon headlights.
CO2 emissions of 163g/km and 46.3mpg claimed economy are no match for rivals, and the big Jag isn't cheap to buy, either. But if you want a stylish, spacious estate, the XF Sportbrake could be the perfect tow car for you.