Jaguar kills off XJR 575 super saloon
The Jaguar XJR super saloon has been deleted, meaning the Jaguar XJ is diesel-only for the first time in 50 years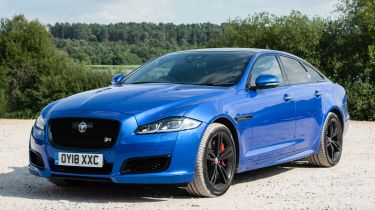 Jaguar has axed its XJR 575 high performance super saloon, Auto Express has learned. The British firm has killed off the V8-powered limo due to ever more stringent WLTP emissions testing. The XJR 575's niche appeal and small sales numbers in the UK – believed to be in the tens rather than the hundreds – also made homologating the car for the new emissions tests not cost effective.
The move brings an end to XJR name too – the high performance model has been offered in the XJ range since 1994. Jaguar has also quietly removed the 335bhp 3.0-litre supercharged V6 petrol version meaning the XJ can only be ordered with JLR's perennial 296bhp 3.0-litre V6 turbo diesel.
Apart from a celebratory XJ 50 model the trim range remains the same, however, with Luxury, Premium Luxury, Portfolio and R-Sport offered. It's the first time the XJ has been offered solely with a diesel engine in the model's 50-year history. It also means the XJ will remain diesel-only until a new ninth-generation arrives in around two years time.
That car is expected to be an all-electric halo model for the British brand. The decision to axe the XJR 575 has come earlier than expected, however. It was launched less than 12 months ago and saw the XJR's 5.0-litre supercharged V8 tweaked from 542bhp to 567bhp (575 in metric horsepower, hence the '575' name) and a raft of extra cosmetic touches added including 575 badges, red stitching to the seats and distinctive Velocity Blue paintwork.
The XJR 575 and supercharged V6 XJ models' demise carries on from similar model deletions. JLR removed the 3.0-litre supercharged V6 from the XE S, XF S and the Land Rover Discovery Sport, Range Rover Sport and Range Rover Velar earlier this year.