Kia to release two PHEV Ceed models in 2019
Plug-in hybrid versions of both the Ceed Sports Wagon and upcoming XCeed SUV will be revealed by the end of the year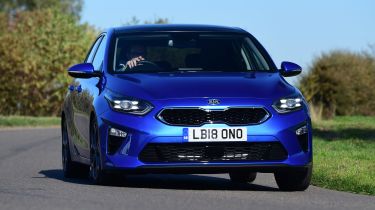 Kia's family of electrified models is set to grow with the introduction of two plug-in hybrids within the Ceed family by the end of this year. The news was confirmed to Auto Express at the Geneva Motor Show by Kia Chief Operating Officer Emilio Herrera.
"We are looking at getting electrification into the Ceed family," said Herrera. "In November we will start of the production, in Europe, of the plug-in hybrid Ceed Sports Wagon, and we will also have a plug-in hybrid of the crossover version we will show at Frankfurt in September." That crossover version refers to the XCeed: a crossover based on the Ceed platform, which has not yet been revealed.
In a move to enable the overall CO2 emissions to reach ever more stringent targets, further electrification of the Kia range will be vital. While Herrera wouldn't confirm the precise details of the powertrain, it's more than likely that the XCeed and Ceed Sports Wagon will share a similar drivetrain to that used by the current Kia Niro PHEV. That would mean a circa 36-mile electric-only range from its 8.9kWh battery, and CO2 emissions somewhere in the region of 31g/km.
Those figures are achieved by pairing a 1.6-litre petrol engine with an electric motor for a combined 139bhp. The Niro sends its power to the front wheels through a dual clutch automatic gearbox.
Do you think of Kia's plan to add more plug-in hybrids to their range? Let us know in the comments below...