Kia plots nine new electric cars in the UK by 2027
Kia will launch nine new EVs by 2027 as part of its 'Plan S' strategy, including the EV9 seven-seat SUV this year
Kia is making strides into the EV market with its latest models, and the Korean firm will continue this momentum by launching nine new pure-electric cars in the UK by 2027. 
The announcement forms part of Kia's business roadmap leading up to the year 2030, which will see it launch 14 new electric cars globally. This electrification push is a key component in Kia's bid to sell 4 million vehicles annually by the end of the decade, with over a quarter of these units predicted to be battery-electric vehicles (BEVs).
Several of these new electric cars will be based on the brand's E-GMP electric architecture that underpins the firm's EV6. Kia has trademarks for badges ranging from EV1 to EV9, and the latter will join the EV6 in the line-up when it's revealed this year. Drawing from the Concept EV9 which made its debut in 2021, the large SUV will offer seven seats and a boxy, upright design inspired by the show car.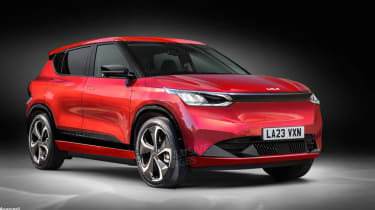 As previewed by our exclusive image (above), a small EV4 crossover is also expected to arrive in the near future based on a shortened version of the E-GMP platform. The BMW iX1 rival could offer more than 300 miles of range thanks to powertrain tech borrowed from the EV6, and the firm's future models are set to offer over-the-air updates and 'Feature-on-Demand' services for the first time.
Another one of Kia's goals for 2030 is to become a leading global Purpose Built Vehicle (PBV) brand. The Korean maker will build these PBVs for corporate customers in an effort to meet a forecasted five-fold increase in demand for bespoke products by 2030. 
For now, these PBVs will be built upon existing platforms, such as the e-Niro Plus, and will be aimed at taxi fleets and ride-hailing services. From 2025, however, dedicated skateboard platforms for models of this type (PBVs) will be introduced. 
These skateboard architectures - so called because the rolling chassis houses the battery, drive motors and suspension - are flexible in size and feature modular bodies, which can be easily swapped out to meet the needs of each business. Across its manufacturing facilities, Kia will also be switching to more sustainable production methods, recycled materials, and renewable energy where possible.
Click here for our list of the best electric cars currently on sale in the UK...