Kia GT4 Stinger concept at Detroit Motor Show 2014
Kia comes over unexpectedly sporty with the muscular 311bhp GT4 Stinger coupe concept in Detroit - now with video
If you thought Kia was only about family hatchbacks and sensible crossovers, the GT4 Stinger concept is here to change your mind. Revealed at the 2014 Detroit Motor Show, this muscular 2+2 coupe shows how a Kia rival to the Toyota GT-86 could look, and a production version hasn't been ruled out.
You could probably guess that it's been designed at Kia's Californian studio, with the help of some classic US muscle car cues. A short rear overhang, bulging rear arches and a clamshell bonnet that's shrink-wrapped around the front arches should go down well in Motor City. Other features like a new tiger nose grille and vertical LED lights point towards a subtly-different design language across the range.
Power comes from a highly-tuned version of Kia's familiar 2.0-litre turbocharged T-GDI petrol engine, sending 311bhp to the rear Pirelli P-Zero tyres. We have also learned that the Stinger will be built on its own, bespoke platform that has independent double wishbone suspension all round.
Kia claims the purpose of the GT4 Stinger was to create a "purebred, affordable sports car," which is why there's a six-speed manual, instead of a more complicated twin-clutch 'box, and a back-to-basics interior.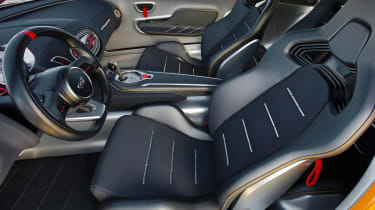 Kia GT4 Stinger: interior
Inside, there's rubber mats instead of carpets, pull straps where you'd normally find door handles and no stereo. A flat-bottomed steering wheel and leather buckets seats draw connections to the race track, while a glass hatch at the rear reveals a small storage compartment.
Built on a bespoke chassis with independent double wishbone suspension all round, the GT4 Stinger has a shorter wheelbase, but identical length to the Cee'd hatch, although it's also wider than an Optima saloon and 229mm lower than the Rio hatch. Custom 20-inch alloys with carbon-fibre inserts are fitted with 15-inch Brembo brakes, while the overall weight is 1,304kg - just a few kilos heavier than the GT-86.
While officially there are no plans to put it into production, Kia couldn't help but fan the flames of speculation. It claims the GT4 Stinger "provides a possible and highly provocative glimpse into Kia's future". Kia has also confirmed that a production version of its 2011 GT concept will go on sale in 2016 - although it's still not clear whether it will use a rear or front-wheel drive layout.