Kia Carens vs rivals
The stylish new Kia Carens tackles two seven-seat rivals, the Toyota Verso and Ford Grand C-MAX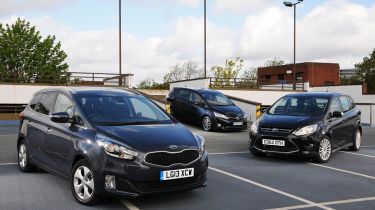 Kia has given its range a thorough makeover over the past few years, and now the final piece of the jigsaw has fallen into place, with the arrival of the new Carens compact MPV.
The seven-seater is brand new from the ground up, so it gets a stylish look, as well as a versatile interior with a variety of seating layouts.
We wanted to put this practicality to the test, so we've lined up the Carens 1.7 CRDi diesel in 2 trim – expected to become the best seller of the range – against two cars that will push its abilities to the limit.
First up is the Toyota Verso. It has recently been updated with a new look and cleaner engines, while the seat folding mechanism is simplicity itself.
Then there's the Ford Grand C-MAX. It's unique in this test as it's the only car to have sliding doors, while Ford's talent for building great-handling cars also shines through.
Less than £1,000 covers the prices of our trio, but which one is the family car champ?
Verdict
All three of these cars would be a great choice for family motoring, as long as the rearmost seats are only going to be used by kids. But there can only be one winner of this test – and it's not the Ford Grand C-MAX.
While the sliding doors are practical, the 1.6-litre diesel is outgunned by its rivals, both for performance and fuel economy. Essentially, there are only four and a half seats in the back, too, while the folding mechanism is rather clunky.
Second place goes to the Toyota Verso. Its seat layout is versatile and easy to use, while the punchy diesel offers a great mix of performance and economy. If only the car was a bit more inspiring to drive.
So that leaves the Kia Carens on top. It undercuts both of its rivals here, yet matchesthe Toyota for kit and versatility, while adding some neat practical touches. Although it's not the most exciting car to drive, as a family-friendly choice, it ticks all the right boxes.