Kia Carens 1.7 CRDi diesel: long term test review
Final report: We bid a fond farewell to practical Kia Carens 1.7 CRDi diesel seven-seater
Mileage: 22,752 milesReal-world fuel economy: 44.1mpg
It's that time again, when I deliver my verdict on a car that has survived one of the toughest tests you can throw at it: acting as Gibson family transport.
The Kia Carens has taken everything in its stride, from holidays packed with kids, camping gear and our dog, to long-distance trips for photoshoots loaded with my camera kit.
The 492-litre boot is easy to pack and comes with plenty of practical touches – although one feature has gone largely unused during the car's time with us.
Nobody has taken advantage of the Carens' useful seven-seat layout. In fact, the only time that the third row has been lifted into place is when I've had to take pictures of it – highlighting the current decline in British buyers' demand for seven-seat MPVs.
It's not as if I haven't enjoyed the Carens' versatility; it's just that the five-seat layout is more than enough for my needs. I guess you only consider seven seats when you have more than two kids, and even then you're more likely to go for a roomier model like a SEAT Alhambra or Ford Galaxy.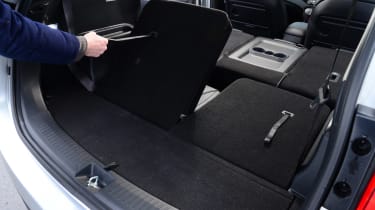 On the flipside, the occasional seats in more fashionable seven-seat models such as the Hyundai Santa Fe or Nissan X-Trail are adequate enough for most requirements, so the Kia is stuck in the middle and struggles to make an impact.
However, the Carens shouldn't be discounted from the race for MPV supremacy. The space inside is superb, while the little touches make a big difference. Standard sunblinds in the back doors and dark-tinted windows boost rear comfort, while the heated steering wheel adds a luxury feel. Our 3 Sat Nav-spec model also has heated seats, although the leather trim is thin.
Aside from that, the only real blot on the copybook was when the Carens overheated after losing its coolant – it's only happened once, however. There've been occasions where I would've liked a bit more power from the 1.7-litre diesel for overtaking, too, although it has coped well on most journeys.
The ride is pretty comfortable, but the Carens is no sports car, so you need to look elsewhere for driving fun. The Flex Steer system has a Sport mode, although there's not much in the way of feedback through the wheel.
Overall, the Carens has been a fine family wagon, and buyers in the market for a practical, part-time seven-seater with plenty of kit can't go wrong.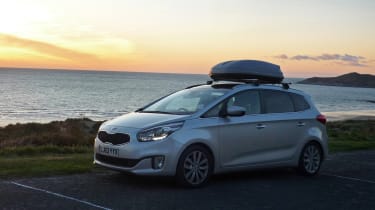 Kia Carens report 3
Our Kia Carens 1.7 CRDi diesel MPV gets a clean bill of health after nearly 18,000 miles
Mileage: 17,922 Real world fuel economy: 47.0mpg
Our Kia Carens is in a class of its own when it comes to racking up the miles. Most cars on our fleet average around 7,000 miles in their time with us – anything from six months to a year.
But that goes out of the window when a photographer like me gets behind the wheel, because in my hands our Kia's odometer has nearly hit 18,000 miles. And with a summer holiday to Devon planned, that figure was only going to rise, so it made sense to book our 3 Nav 1.7 CRDi model in for its first service.
The work was carried out quickly and courteously by Westdrive Kia in Braintree, Essex. While it was having its routine maintenance, I asked the technicians to have a close look at the cooling system. On a recent journey, I noticed a loss in power – although no warning lights were apparent, the temperature gauge soared into the red.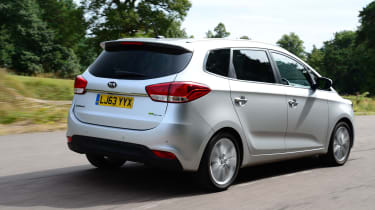 Pulling into a service station, I checked the fluid levels and found the coolant reservoir empty. I let the engine cool, refilled it then searched for a leak, but found none and it's been fine since. This was backed up by the guys at Westdrive, who couldn't detect any obvious faults.
However, they did spot a small defect in the sidewall of one of the rear tyres, which I'll have to deal with. A new tyre won't be cheap, but I can take comfort from the fact the service was covered by Kia's £329 three-year maintenance pack.
With the Carens fit for another year, I can prepare for my summer break with confidence. The Kia is definitely one of the most practical cars I've ever run. It has a decent engine and loads of space for my family and camera equipment. And with the large distances I travel, it needs to be comfortable as well.
So it should be ideal for the trip south. Even so, as we're taking our dog Benson on holiday, I invested in some roof bars and fitted a roof box, so Benson can have the Carens' spacious boot all to himself.
Yet once I'd attached the bars – an easy job thanks to their integrated screw fix attachments – I noticed an annoying whistle on the motorway. It turns out the small holes on the underside of the bars act like a whistle as air travels over them.
Covering the holes with gaffa tape has restored calm to the cabin in time for my summer trip to the seaside. Well, apart from the racket generated by two small children and a dog, of course.
Kia Carens diesel: report 2
Our man is loving his time in Tardis-like seven-seater
Mileage: 11,904Real world fuel economy: 43.9mpg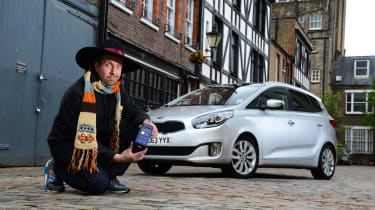 Okay so it's not blue or capable of time travel, and I'm no Doctor Who, but our Kia Carens does have a deceptive amount of usable space within its five doors.
As anyone who reads our fleet reports will know, we photographers carry a lot of gear, but the Kia's 492-litre boot swallows all of it easily. Not only is there plenty of space, but the low sill and large floor area make loading a breeze.
One smart addition is the storage space under the boot floor for the extendable load cover when you're not using it. In fact, that's exactly where it has stayed, because I find the boot is easier to use when it's removed, and the standard tinted rear windows are dark enough to keep my kit hidden from prying eyes.
Considering that the Carens is a seven-seater, I think it looks neat. Some other models seem a little ungainly, but while the styling isn't overly dramatic, it's clean and functional, and the long roof means the rearmost seats get enough headroom to keep my two kids happy. They also like the flip-down centre seat in the middle row. It has a hard back fitted with cup-holders, and it's perfect for long journeys and resting assorted toys and books on.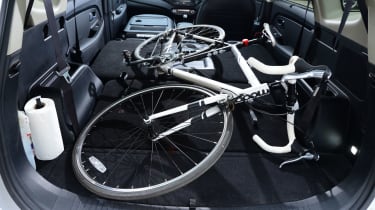 All the back seats fold to leave a fully flat load area, and if you're transporting an extra-long item, you can fold the front passenger seat, too – so you never need to leave stuff poking out the windows, or drive with the tailgate open.
The final ace in the pack is the Carens' ability to swallow my bike without the need to remove the seatpost or either wheel – that big tailgate means you can roll the bike in in one piece and lay it down without touching the sides.
Overall, while not the most desirable car on our fleet, the Kia is practical and efficient, returning 43.9mpg. Yes, it could be more fun to drive, but it really excels as a family car that can take you and your stuff wherever you need, with the added bonus of a pair of occasional seats in the boot for when you need them. What more does a family man want? Well, apart from a sonic screwdriver...
Kia Carens diesel: report 1
We've taken delivery of stylish and versatile new seven-seat MPV
Mileage: 1,187 miles, Real world fuel economy: 39.8mpg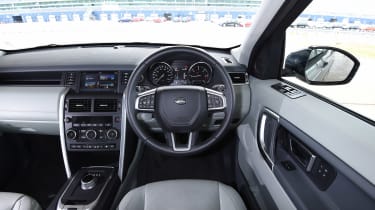 I'll admit I wasn't exactly bowled over when I heard I'd be running our new Kia Carens. Having spent the last few months swanning around in our swift, sleek and swanky Mazda 6 Tourer, the thought of a sensible MPV left me feeling a little deflated.
However, my mood lifted when I arrived at Westdrive Kia in Braintree, Essex. Not only is the impressive looking facility the Korean brand's biggest UK dealership, outside was our Carens, ready to be collected.
Finished in optional £495 Bright Silver metallic paint and riding on attractive 17-inch alloy wheels, our range-topping 3 Sat-nav looked far more stylish than I had expected. Matters improved when sales executive Lee Goldsworthy greeted me and gave me a guided tour of the seven-seater.
We've become used to Kias matching European rivals for interior quality, but the Carens is the best yet. Soft-touch materials are used throughout, while the fit and finish are excellent. Better still, the dashboard has a classy design, is clearly laid out and packed with slick switchgear. There's loads of standard equipment, too.
Included in a long list of desirable additions are leather seat trim, an intuitive touchscreen sat-nav and dual-zone climate control. Crucially for this time of year, you also get heating for the seats and steering wheel.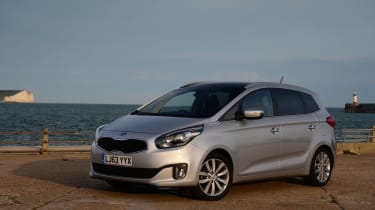 Yet with loads of photographic equipment to haul about, plus two young children and a dog, it's the Kia's space that really impresses. The well-shaped boot will swallow 492 litres, and this stretches to 1,650 litres with the seats folded flat. But it's the neat details that really demonstrate that Kia's designers have put some thought into the Carens' cabin.
For instance, the parcel shelf can be stored under the boot floor when it's not needed, which is perfect when our dog Benson needs to hitch a ride. And my two daughters love the folding middle rear seat, which doubles as a handy table complete with cup-holders.
But the really great news is that since I guided the Carens off Westdrive's forecourt my good mood has continued. The Kia's driving position is spot-on, the supple ride soaks up the bumps and the refinement is first rate. It's even quieter than my old Mazda.
That's not to say the Carens is perfect, though. The thick A-pillars clearly aid the car's strength, yet they also cause worrying blindspots that are especially obvious when you're trying to negotiate a roundabout. The smooth 134bhp 1.7-litre diesel also felt a little gutless at first. It's started to loosen up as the miles pile on, but it lacks the urgency of the less powerful 1.6-litre diesel in the identically sized Renault Grand Scenic. And while the third row of seats is handy for ferrying around my daughters' friends, they're a little too small for adults on anything other than short trips.
Still, I forgive the Carens these flaws as it suits my lifestyle down to the ground. There's more than enough space for my photographic gear, while the versatile interior adapts effortlessly to my hectic family life. And at the end of a long day, there aren't many cars on our fleet that are as welcoming and comfortable. So far, so good then. I really shouldn't have worried.
Read our in-depth review of the Kia Carens here.