Hot Kia Cee'd GT planned
A new, faster version of the Kia Cee'd GT hatchback will be developed in Europe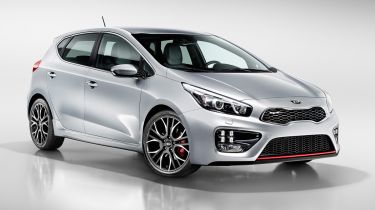 A hardcore version of the Kia Cee'd GT is being planned by the Korean firm, as part of a new line of sporty models. This news comes alongside word that the Kia GT coupe is to go on sale in 2016, and a new roadster is also under development.
The Kia Cee'd GT is the upcoming five-door version of the existing Kia Pro_cee'd GT, which is described as a warm hatchback, as opposed to being a true hot hatch. The introduction of a new, faster model means Kia hopes to compete with the Volkswagen Golf GTI and Skoda Octavia vRS.
This new, faster version of the Kia Cee'd GT will be developed in Europe at the facility Kia shares with Hyundai at the Nürburgring racetrack in Germany. Kia engineers are likely to favour reducing weight and tweaking the suspension rather than upping power of the 201bhp 1.6-litre turbocharged engine found in the standard Cee'd GT and Pro_cee'd GT models.
Also rumoured to be on the cards is a Kia Rio GT, although that might have to wait for an all-new Rio, which is due in the next 12-18 months. Kia will also be introducing a range of styling and performance upgrades for its models, starting with the new Kia Soul, which is expected in the UK next year.
Kia hasn't just been concentrating on sporty models, however. Its engineers have also been hard at work on a new 1.0-litre three-cylinder engine for the Cee'd family.
This new Kia Cee'd engine will go on sale in 2015 and provide a rival for the three-cylinder Ecoboost engine in the Ford Focus, while Vauxhall is also expected to have a three-cylinder Astra on sale by then, too.