Kia Soul EV - best tax-free cars
Even before you consider its tax-free merits, Kia's Soul EV appeals with its long kit list and seven-year warranty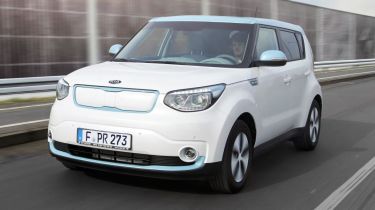 Our pick: Soul EV  CO2: 0/gkm
List price: £25,495
Even before you consider its tax-free merits, Kia's Soul EV appeals with its long kit list and seven-year warranty.
And that's not all: the Soul EV scores high on practicality, with a 281-litre boot and good headroom for passengers. It's quicker than it looks, too, due to the electric motor's instant torque. And its 132-mile range is comparable with most rivals and well-suited to city and urban driving styles.
The elephant in the room is of course the looks: the boxy appearance are described most kindly as 'distinctive', and are unlikely to be the driving force behind sales. But then if it ticks all the boxes and saves you money in the long wrong, you'll quickly get used to the style.
The Soul also comes in petrol and diesel forms, but in year one under the new tax rules these will set you back £500 and £200 respectively, then £140 annually.
The UK's best tax-free cars