Volkswagen e-Golf - best tax-free cars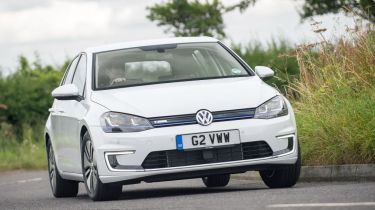 Our pick: e-GolfCO2: 0g/km
List price: £26,680   
It's a standard Golf adapted to take electric power rather than a model developed from the ground up as an EV, but that means the e-Golf is really usable. Naturally there are a few imperfections - namely the rough ride - that may have been ironed out had it been designed from scratch, but despite this the e-Golf is a good all-round package.
It costs more to buy than a regular Golf, and only comes in GT trim, yet it gets a 9.2-inch infotainment touchscreen, climate control and adaptive cruise control. The biggest drawback is the weight of the batteries. At 318kg they make the car heavy in bends.
The GTE hybrid – which until 1 April 2017 was exempt from tax – now carries an annual fee of £130, while diesel and petrol Golfs can cost up to £160 in year one.
The UK's best tax-free cars