Smart ForTwo electric - best tax-free cars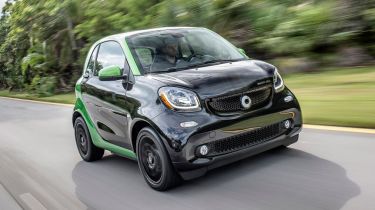 Our pick: Smart ForTwo electricCO2: 0g/km
List price: £16,000 (est)
The Smart ForTwo is designed for life in the city, and with the introduction of the EV version, electric might be the way to go. That is, of course, as long as you can wait until it arrives in the UK sometime in the autumn.
When it does eventually arrive on the isles, the ForTwo electric will bring with it some competitive specs: 100 miles of range should be plenty to get to work and back, and a 0-62mph time of 11.5 seconds will ensure that you're not left lagging at the lights. That is, if the opposition is a lycra-clad cyclist.
Top speed is 81mph, barely enough to garner a speeding fine but plenty for a short burst along the motorway on that all-important commute. The £16,000 asking price is cheap for an electric car, too. So you'll be several thousand pounds better off compared to some EV models the moment you leave the dealership.
The UK's best tax-free cars