Nissan e-NV200 - best tax-free cars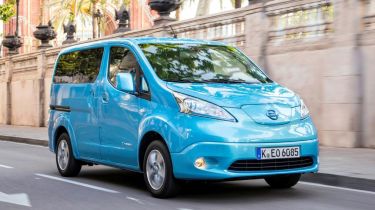 Our pick: Nissan e-NV200 Combi AcentaCO2: 0g/km
List price: £24,407
Of course, electric cars shouldn't just be for commuters, and it just so happens that EV tech is branching out into the commercial vehicle sector as well. Which is where this - the Nissan e-NV200 7-seater - comes from.
Based on the standard e-NV200 electric van, this family version is designed for transporting the kids about town with the minimum of fuss. The range is quoted as 106 miles, although Nissan readily admits that 70 miles is a more realistic target so longer trips are a no-no. That limited range would probably drop further if the driver had the weight of six other people for company…
108bhp delivered from the electric motor results in a 0-62mph time of 14 seconds, with a top speed of 74 miles per hour. So certainly not the weapon of choice for long distance journeys, but a short inner-city hop with the family on board will be a doddle.
The UK's best tax-free cars