Nissan Leaf - best tax-free cars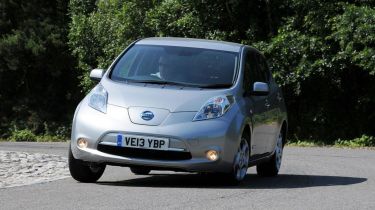 Our pick: Leaf 30kWh Acenta CO2: 0g/kmList price: £29,730
Nissan's Leaf tops the electric car sales charts for a number of different reasons: it's practical, comfortable and refined, and the finance deals available at Nissan dealerships are often pretty tempting. So it's no wonder that the divisive looks and heavy price tag are often overlooked by its clientele.
Depreciation is its biggest downfall, with the Leaf's value plummeting rapidly after the initial point of sale. But buying on finance can eliminate some of the losses, ensuring that it makes the most financial sense for its customers. And as well as that, equipment is fairly generous too. Even on the mid-spec Acenta.
The handling is a bit lifeless, with smooth power delivery taking priority over breakneck acceleration, but as a commuter car that focuses on urban journeys, the Leaf fits the bill. After recent updates increased the range to 155 miles, Nissan's flagship electric vehicle has boosted its usability rating dramatically, meaning that long journeys can be undertaken with ease. Provided you've got the time to charge it up again, of course.
The UK's best tax-free cars