Kia KX3 Concept hints at 2015 Sportage
This new Kia KX3 Concept previews a China-only SUV, but it's likely that the new Sportage will look very similar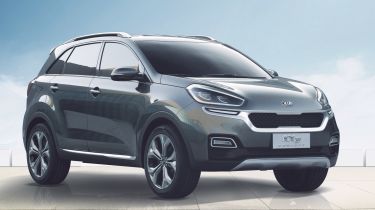 Meet the Kia KX3 Concept, unveiled later today at the Guangzhou Motor Show.
While the world's media has its eyes on the sparky unveilings at the Los Angeles Motor Show, Kia has chosen the Chinese city of Guangzhou for the debut of its SUV concept.
It makes sense as the car previews a China-exclusive C-segment SUV but the concept gives us a very good indication of how the next Kia Sportage will look, due for a 2015 release date.
Kia says the concept is designed "to appeal to young Chinese consumers who are looking for high-value, high-quality cars that reflect their passion for – and pursuit of – an outgoing lifestyle".
It's clear to see the KX3 uses the highly successful Sportage as a starting point. The concept uses the Sportage's coupe-like roofline, high-rising belt-line and muscular wheel arches, but adds a new version of the 'tiger-nose' with a matte chrome-look grille surround and wraparound LED headlights. There are also cues to other SUVs such as the Porsche Cayenne and Volkswagen Tiguan - indications that Kia intends to push the next Sportage upmarket.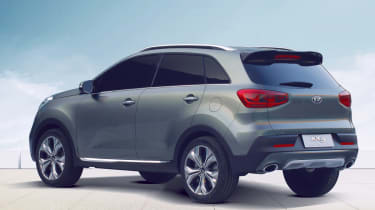 At 4,260mm long and 1,765mm wide it's slightly shorter and narrower than the current generation Sportage, but it's the same height. There's also slightly less boot space with the seats up – the KX-3 trails the Sportage by some 62 litres.
Under the bonnet is 1.6-litre turbo petrol engined mated to a seven-speed dual-clutch gearbox and four-wheel drive. Despite it being just a concept, Kia says the KX3's chassis has been designed for a five-star C-NCAP (Chinese New Car Assessment Programme) rating.
The KX3 sounds pretty production-ready when it comes to the interior too. Kia says it has the "latest in-car connectivity technology – with easy-to-use smartphone functionality" and it has "a high level of standard equipment, and a wide range of options, to ensure the greatest possible value to buyers."
Kia has given no indication whether the car will go into production, but expect to see the next-generation Sportage in a showroom near you looking something like this.
What do you think of this fresh new concept car? Let us know in the comments below...