Video: Lamborghini Huracan vs snowmobile
We hit the ice in northern Sweden to see how the Lamborghini Huracan performs against a snowmobile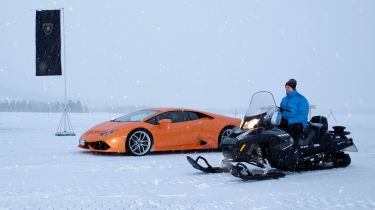 Which is fastest in a drag race on snow? The Lamborghini Huracan or a snowmobile? We headed to a frozen lake in northern Sweden to answer this previously-unasked question.
The Lamborghini Huracan takes all that was great about the Gallardo - and builds on its winning formula. It costs from £186,000, has a new aluminium and carbon chassis, an updated all-wheel-drive system and a 7-speed dual clutch paddle shift gearbox. There's still a mid-mounted 5.2-litre naturally aspirated V10, but it now has 610bhp which is enough to send this raging bull stampeding from 0-62 in just 3.2 seconds and on to 202mph.
That's not all. The Huracan gets a new ANIMA (which means soul in Italian) switch which lets you alter the speed of the transmission shifts, the engine response, the axle torque split, steering weight and damper stiffness. It also has launch control, though the lack of traction on snow means that for faster starts on snow you're better off feeding the power in slowly the good old-fashioned way. But that's hard with a car that has around 600 horsepower...