Land Rover Discovery Project Hero revealed at Geneva
Latest SVO project turns new Discovery into drone-equipped emergency response vehicle
Land Rover has revealed a bespoke version of its new Discovery at the Geneva Motor Show that's designed to help emergency services with rescue missions. The Discovery Project Hero is a product of Jaguar Land Rover's Special Vehicle Operations (SVO), and has been created in conjunction with the Austrian Red Cross to improve response times to disasters.
The Discovery Project Hero features a custom-built interior, while the compact roof box slides open to reveal a drone. This can be launched from the roof of the Discovery and is designed to overfly disaster areas and boost the Red Cross's search and rescue capability. The drone is operated via a tablet, while images can be relayed back to the Discovery's infotainment screen for Red Cross staff to analyse. The drone has a 20 minute maximum flight time, and when it's finished surveying an area, it can then be programmed to dock back on the Discovery's roof, even if the car is moving, thanks to self-centering technology and magnetic contact points on the roof of the car.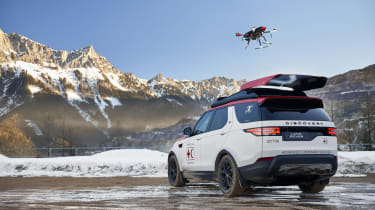 Under the white and red bodywork, Project Hero is based on a standard Discovery TD6, so its off-road ability is without question. Inside, the boot features a heavy-duty extendable floor that can double as a work surface, while a full-height partition means additional equipment can be mounted in the boot area. Under the boot floor, the Project Hero features a variety of heavy duty storage cases and electrical sockets to suit different power supplies, helping to keep emergency equipment running in any region, while a multi-frequency radio helps to maintain contact with others.
Project Hero was created in collaboration with the Red Cross in Austria, and it will be located in the country for 12 months, where it will be involved in disaster simulations using the drone. It will also face active duty during times of disaster.