Lexus NX 300h hybrid review
Eye-catching Lexus NX 300h hybrid has the look to rival Range Rover Evoque and BMW X3
If the look of the NX draws you in, you'll find plenty more to like as you climb behind the wheel. But unless you're naturally a more laid-back driver, you might get frustrated by the 300h's lack of performance. Otherwise, the NX is well made, efficient – although not as clean as we'd hoped – packed with kit and the dealers are fantastic.
If there's a more striking SUV on the market, we've yet to see it. The new Lexus NX takes the wild, Mad Max-inspired LF-NX concept car from last year's Frankfurt Motor Show, smooths out some of the crazier lines and goes on sale with the same 'look-at-me' attitude.
So, is that enough to make the Lexus the go-to SUV for fashion-conscious buyers? Well, there's the financial argument – our £34,495 Luxury model is good value when compared to the equivalent Range Rover Evoque, with standard LED headlights, heated leather seats, adaptive cruise control, 18-inch alloys and keyless go. A similarly specced Evoque will cost around £2,000 more.
The hybrid's CO2 figures – as low as 116g/km if you go for the two-wheel-drive model, but still an excellent 121g/km with four-wheel drive – are an added attraction, particularly if you're paying company car tax. However, in our initial tests, fuel economy of around 35mpg over a mix of roads was some way short of the official 54.3mpg figure.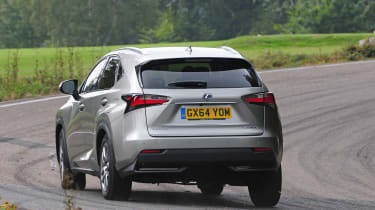 We'd also like a little more action when you put your foot down. It's fine if you have no desire to accelerate swiftly away from a bend or a roundabout, but it's a bit frustrating when you call for more power and it never really arrives. You get the odd flare of revs from the CVT box when you floor it, too, but that's unlikely to bother you, especially if you're using the high-quality sound system.
On a cruise, though, it's quiet and refined, with a pretty comfortable ride, too. However, the 300h is a bit of a mixed bag inside. It looks stylish and upmarket, but as far as the quality is concerned, it's good in places and dreadful in others.
The leather-topped dash and contrast stitching are sensational, but the push wheel that controls the infotainment feels really cheap. Higher-spec models get a better touchpad controller, but the menu system is still a chore to navigate.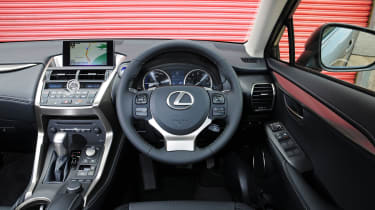 Anyone sitting in the back won't worry about that – they'll just be enjoying the legroom and reasonable headroom, at least in our car without a panoramic sunroof. Access to the back is good, too.
The boot isn't the biggest, at 475 litres, but it does include a space-saver spare wheel – a deal-breaker for many SUV buyers. And with Lexus dealers voted the best in our Driver Power satisfaction survey, you're at least guaranteed a hassle-free ownership experience.