'The Chinese brand that could bring real change'
Editor-in-chief Steve Fowler is excited about the future of Lynk & Co and is looking forward to seeing the Chinese brand in the UK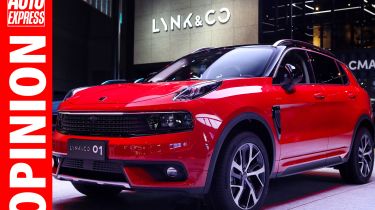 The Shanghai Motor Show is always an eye-opener, from the sheer scale of the event to the 'here today, gone tomorrow' supercar makers that seem to pop up at each visit then vanish from trace.
Western car companies are putting more and more effort into this lucrative market, while plenty of the Chinese makers continue to tease us with promises of heading to Europe and the UK with innovation and value (although judging by some of the tired-looking designs on display, we'd be quite happy if many of them stayed in the Far East).
However, while one Chinese car brand purported to be coming to the UK, Qoros, finally confirmed that it wasn't, one of its big rivals seemed to be stealing the show.
Lynk & Co – the new global car brand launched late last year by the Chinese owner of Volvo, Geely, and led by many former Volvo guys – was launching its smart-looking, if not groundbreaking 01 SUV and similarly styled 03 saloon. Yet in its short lifetime, Lynk & Co seems to have captured the imagination of the Chinese car buying public.
What surprised me most was not the crowds rammed on to the stand, but the age of those flocking to see the cars. They were young car fans, very western in their outlook, with those I spoke to telling me they had fallen in love with Lynk & Co because the brand was "new and cool".
The company is set to arrive in the UK in late 2018/early 2019 and has already announced it will sell its cars through a subscription service and offer lifetime warranties, and that it hopes to be the most connected car brand, starting with free traffic data.
The premium car market has seen disruption from Tesla, but mainstream makers have long been in need of a similar jolt. I reckon Lynk & Co could be about to deliver it.
Are you excited about Lynk & Co coming to the UK? Let us know in the comments section below...