What is Mazda SkyActiv?
We explain everything you need to know about Mazda's SkyActiv range of engines, gearboxes and other technologies
SkyActiv originally started life as the Mazda Sky concept, which was unveiled at the 2008 Tokyo Motor Show. It is the brand name given to a number of technologies - including engines and gearboxes - developed by Japanese manufacturer Mazda and featured across its range of cars.
The original offering consisted of petrol and diesel engines, as well as an automatic gearbox. The concept then developed into the SkyActiv project for its implementation in Mazda's series production vehicles.
The focus of SkyActiv is efficiency, specifically the development of petrol and diesel engines with low emissions and high fuel economy but minimal downside in terms of performance.
SkyActiv engines
There are three main families of engines under the Mazda SkyActiv umbrella. These are SkyActiv-G - a range of direct-injection petrol engines, SkyActiv-D - a family of turbocharged diesel engines and SkyActiv-X - an advanced petrol engine using compression ignition technology.
• Mazda 3 SkyActiv-X 2019 review
The SkyActiv-G petrol units were originally designed to meet the ULEV (Ultra Low Emission Vehicle) standards in the US. There have been a number of different variants, the first of which entered production in 2011.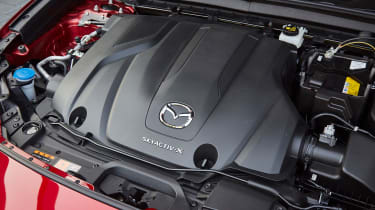 SkyActiv-D turbocharged units meanwhile aim to eliminate the need for expensive NOx and particulate treatment in diesel engines with clean combustion processes.
New to the SkyActiv engine range is the SkyActiv-X petrol unit, which Mazda describes as an "intersection" of SkyActiv-G and SkyActiv-D, combining the free-revving characteristics of a petrol engine with the fuel efficiency, torque and fast initial response of a diesel engine. It runs on petrol but can ignite its fuel using the more efficient compression ignition technology of a diesel.
SkyActiv-Hybrid engines share technology with Toyota's Hybrid Synergy Drive system. The first retail Mazda using this was unveiled in 2013. In addition, there's also a SkyActiv-CNG engine, which is powered by compressed natural gas.
Mazda has also previously shown off a SkyActiv-R concept, slated as the new generation rotary engine. Unfortunately, this engine has not yet made production and details are scarce.
SkyActiv gearboxes
While many manufacturers use dual-clutch technology in their automatic transmissions, Mazda didn't think this type of gearbox performed well enough in certain situations and therefore decided to create its own.
In what was a re-design of a conventional automatic transmission, Mazda reduced the burden on the torque converter, which is disengaged most of the time by a multi-plate clutch. The result was a six-speed SkyActiv automatic gearbox offering high levels of efficiency.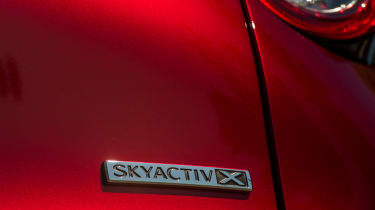 SkyActiv-MT, on the other hand, is a family of manual transmissions. Thanks to Mazda's innovation, SkyActiv-MT gearboxes have the shortest shift of any passenger car, reducing the amount of effort the driver has to put in.
SkyActiv body
SkyActiv-Body, as the name suggests, is a lightweight, highly rigid car body, which was designed with crash testing in mind. This body is eight per cent lighter and 30 per cent stiffer than previous generations.
• Mazda CX-30 SkyActiv-X 2020 review
The high-tensile steel SkyActiv-Body uses is the thinnest in its class, helping Mazda ensure its models are lightweight, while also scoring highly in Euro NCAP crash tests.
Do you own a Mazda SkyActiv? Let us know what you think of it in the comments below...