Mazda 2
If you're a female aged between 20 and 30, and wondering which car to buy, Mazda would like a word about it's stylish supermini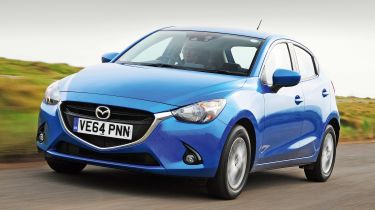 If you're a female aged between 20 and 30, and wondering which car to buy, Mazda would like a word about it's stylish supermini. You're the target market it says the Mazda 2 was primarily designed for. If you're a chap, don't worry, because you don't need to be too closely in touch with your feminine side to appreciate what the Mazda 2 has to offer.
The Mazda supermini's list of attributes includes attractive sporty styling, a nimble and fun to drive chassis, and a useful dose of practicality. It's also well-built, has a comfortable and well-designed cabin and is cheap to run. With eager engines and suspension firm enough to make cornering fun, there's enough noise and ride refinement to make the Mazda 2 a comfortable long distance motorway cruiser. The car is also strong on technology and safety, with a head-up display, seven-inch touchscreen and features like automatic braking and lane departure warning all available.
The diesel engine may be super-efficient, but unless you're doing mega mileage the petrol engines are probably a better bet. Our favourite is the 89bhp 1.5 litre SKYACTIV-G, which offers decent performance and admirable economy. On the downside insurance rates will be a little higher than some rivals – the Mazda starts at group 13 – and prices aren't exactly bargain basement. That said, the Mazda 2 does promise good residual values, so you should get a decent chunk of money back at resale time.