Mazda bosses keen on new SUV based on Koeru Frankfurt star
A production car based on the Mazda Koeru SUV concept is a real possibility with bosses looking to gauge public reaction.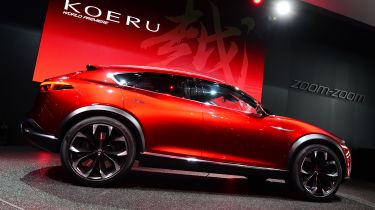 Mazda bosses are waiting to evaluate the public reaction to the Mazda Koeru concept car shown at the 2015 Frankfurt Motor Show before pressing the go button on a new sporty SUV.  
Mazda President Masamichi Kogai said that they would be assessing the reaction of Mazda fans and owners to the stunning new Koeru coupe/crossover concept. 
He explained that: "we would like to see it in production, but we need to monitor customers voices and see if it can deliver sustainable sales volumes before making the final judgement. The Koeru Concept is a totally new proposition of SUVs, but everyone seemed to rave about the car at the show, and I am encouraged to hear that."
Kogai said that the big fear where a production model is concerned would be car taking buyers from other crossover models in the Mazda line-up like the CX-3 and CX-5: "we need to make sure that substitution would not happen."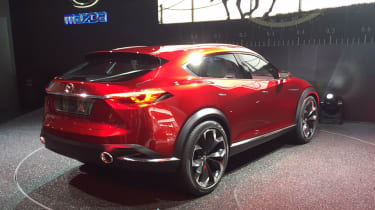 Mazda Global Design boss, Ikuo Maeda and European boss Kevin Rice explained that the Koeru Concept was aimed at re-defining the boundaries of SUV crossovers. They said they were "disappointed at the traditional limitations" of SUV design. With Rice adding that the aim of the Koeru Concept, a coupe crossover, was to re-define the boundaries and make it a sporty vehicle that was more elegant and refined. He went on to say that it would not be difficult to put the Koeru Concept into production if it gets the right reaction.
Mazda to decide on hybrid or electric path
Mr Kogai went on to talk in depth on Mazda's plans for engines in the future, and revealed they were currently assessing customer reaction to trials in Japan of an electric Mazda 2 supermini and a hybrid Mazda 3.  Whichever system proves to be the best option will be adopted across their entire line-up.
He also talked openly about rotary power being used in future Mazda's and said that they had a team of rotary engine specialists working urgently on research, but that there were still challenges to find a solution to certain problems associated with the technology, including cold start. 
But he pointed out that Mazda was more focused on improving the internal combustion engine 'to the max' and with the next generation of SkyActive II technology is looking to make 30% improvements on fuel economy by 2018. "We have been improving the fuel economy and dynamic performance of the conventional combustion engine and unless a Rotary powered engine could exceed that, customers would not accept it."
Mazda on the up after split from Ford
The Mazda President said that the firm had proved it was able to succeed on its own after splitting from Ford. "Now that Ford are out of the picture we have tried to be more efficient ourselves. We have learnt from the past and we have focussed on certain car and SUV lines and have been able to succeed using common architecture and significantly improved our engine efficiency."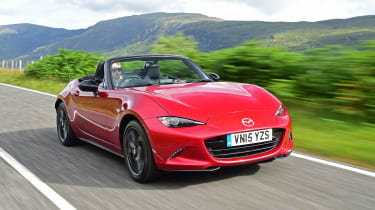 He has also been delighted with the global reaction to the new MX-5 sports car, which he said was attracting new customers to the brand as the roadster closes in on 1 million sales. Although many manufacturers have tried to compete with the MX-5 Mr Kogai feels that non have succeeded. "No other manufacturer can compete or make a rival for the MX-5 as a lightweight affordable sports car, the only rival is the MX-5!"
Partnership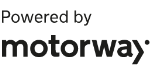 Need to sell your car?
Find your best offer from over 5,000+ dealers. It's that easy.
He said that after the global financial crisis of 2008 Mazda sales fell to less than 1.2 million a year, but were now close to 1.5 million and that the new factory in Mexico that would increase production capacity by 250,000. Mr Kogai then revealed that when Mazda reached 1.65 million it would have to decide whether another new factory would be needed for the firm to grow further.
What do you think of the current Mazda range and the direction the company is headed in? Let us know in the comments section below...