Five new Mazda cars by 2016
Replacements for Mazda 2, Mazda 5 and MX-5 due. Next MX-5 'very different' from new Alfa Spider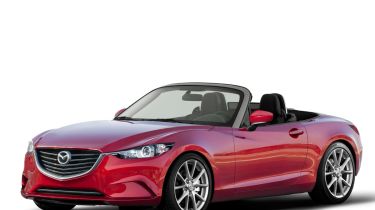 Mazda confirmed at the Tokyo Motor Show that it will build five all-new cars between 2014 and 2016.
While there's no confirmation on what models these will be, expect to see replacements for the Mazda 2 and Mazda 5, that feature both the firms new Kodo design language and SkyActiv chassis and engine technology.
We'll also see the new MX-5, but while Mazda Design Chief Ikuo Maeda confirmed to us that he'd completed the design, there's still no set date for its debut.
However, it's likely to go on sale in 2015. Mr Maeda also revealed that after completing his design, he's seen the design of the new Alfa Romeo Spider, which will share its underpinnings with the Mazda and be built alongside the MX-5. His only comment was that the pair "were very different".
As we've predicted before, the fourth new Mazda model will likely be a small Mazda 2 based crossover badged as CX-3.
• Mazda to launch Nissan Juke rival
As to fifth Mazda model, executives wouldn't be drawn on its type, but when questioned on the likelihood of it being a sports coupe to replace the RX-8, Mazda's Managing officer of R&D Takahisa Sori would only comment that "while he personally would love to see such a car the business case is tough"
Mazda also showed a Mazda 3 hybrid on its stand at the Tokyo show. Matching Mazda's 2.0-litre petrol SkyActiv petrol engine to a CVT gearbox, battery pack and hybrid tech from Toyota, it's currently only destined for the Japanese market.