Best used convertibles
The Mazda MX-5 is the best used convertible in our Used Car Awards 2020
Best used convertible: Mazda MX-5
Our pick: Mazda MX-5 2.0 Sport Nav (2015/65, 36k miles, £9,750)
The MX-5 is the world's best-selling two-seat roadster, and that's no surprise: no car comes close to delivering as much fun for your money, regardless of the amount you have to spend.
But we think the current ND-generation is the pick of the bunch when factoring in reliability, running costs and the sheer availability of good, low-mileage cars.
Almost all of the fourth-generation models we found advertised for sale have covered fewer than 35,000 miles, because they're now more weekend playthings than daily commuter cars; the complete lack of interior storage clearly has its upsides. A recent new-car price increase makes the sub-£10,000 starting point for used MX-5s look like even more of a bargain.
As such, you're more likely to find a cared-for model that's never seen race-track tarmac with many more years of motoring ahead of it. Of course, if you feel like breaking its track-day duck, then you'll have a ball.
While roadsters like this often feel like a throwback, the latest MX-5 has moved with the times. Yet in a world of spiralling power, increasing weight and extreme running costs, the Mazda remains a breath of fresh air.
No matter whether you go for a 1.5 or 2.0-litre model, they both love to be revved and use one of the slickest, most positive six-speed manual gearboxes available.
The car is as easy to live with as stripped-back driver's cars get, bearing comparisons with the likes of the Caterham Seven and Lotus Elise, but with modern-car kit like air-conditioning, sat-nav, leather seats and myriad safety systems. There's even a boot that is just big enough for a weekend's luggage, and if you choose the slightly heavier RF model, you'll get a folding hard top and a fixed, but retractable, rear screen for improved refinement and security.
Finance options
Convertibles normally carry a steep premium over hard-topped alternatives, but the MX-5 is still affordable, with monthly payments of £237 on a three-year PCP finance contract with a £1,300 deposit. This deal works well for those who want to buy the car at the end of the contract, because the optional final payment – make this and the car is yours – is just £5,617. That's a relatively small proportion of the original cash price.
Commended
MINI Convertible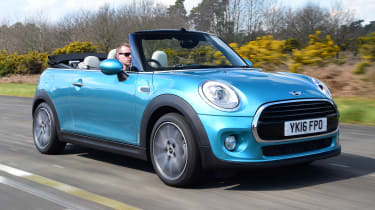 It's been on sale for a good few years, but thanks to a number of updates the MINI Convertible remains a favourite. A bewildering array of personalisation options is available, so choose a car that you like the look of, but it's hard to go beyond a £10,000 Cooper for all-round appeal.
Left-field choice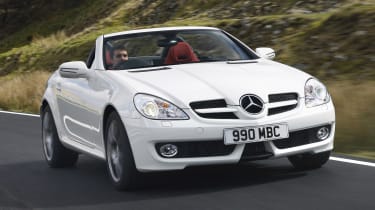 A cheap Merc roadster? You'd better believe it. The SLK is a car that will fool your neighbours into thinking you're driving something far pricier than it actually is. For less than £2,500, it's stylish, has a folding hard-top and is pretty good to drive. Just make sure everything works, and check for rust.