Mazda RX-8
Plenty of choice for between £1,000 and £2,500 - the Mazda RX-8 is one of our favourites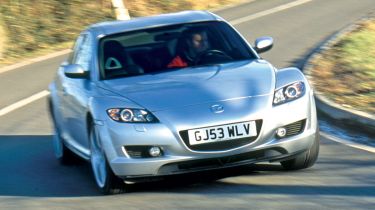 Not all of your options at this price bracket need to be front-wheel-drive hot hatchbacks.
You can get behind the wheel of the fun yet practical rear-wheel-drive Mazda RX-8 coupe for a touch under £2,500.
The four-seater is an Auto Express favourite, and the combination of revvy rotary engine, low-slung coupe body and reverse-hinged half doors makes it unlike anything else on the road. The chassis is well balanced, and even in 228bhp Hi Power guise, the RX-8 is fairly easy to handle.
Of course, the engine is thirsty – for oil as well as fuel – but if you factor in the higher running costs, you shouldn't expect any nasty bills. Buy one that's been cared for properly, and it should be reliable, too.
We saw a 2004 RX-8 Hi Power with 67,000 miles and a full history for £2,150 – and it came with air-con, heated mirrors and an electric sunroof.