Aston Martin V8 Vantage
For less than £30,000, little comes close to the V8 Vantage for badge appeal and driving thrills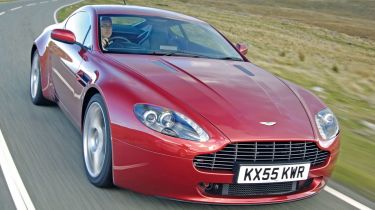 Aston Martin has more badge appeal than most car brands, so the idea of owning one of its glamorous V8 coupes for the price of a new executive saloon is difficult to ignore.
An entry-level BMW 5 Series is a more sensible option, but a V8 Vantage with less than 40,000 miles delivers bags more glamour, power and driver thrills for your £30k.
At this money, you'll be looking at an early 2005 model with a snarling 417bhp 4.3-litre V8. Later Vantages got a more powerful 4.7-litre, but they cost more to buy and are barely any better to drive.
The handling is engaging, too. Taut body control, a well sorted rear-drive chassis and sharp steering will have you seeking out twisting back roads just for fun. And when you're not attacking corners, the cosy, leather-lined cabin is comfy and relaxing.
Running costs will leave a large dent in your wallet, but you'll forget about these big bills every time you get behind the wheel for a blast. So while there are more rational ways to spend £30,000, none will put such a big grin on your face.