BMW M5
The mighty BMW M5 gets a 5.0-litre V10 and is now less than £20,000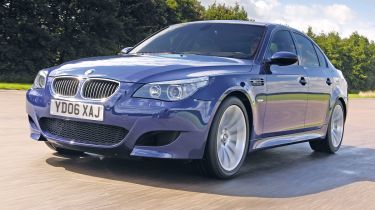 With an enormous 5.0-litre naturally aspirated V10 lurking under its sober-suited saloon body, the M5 is a supercar the whole family can enjoy.
The Formula One-inspired engine sends a mammoth 507bhp to the rear wheels through a bespoke seven-speed sequential gearbox to give the BMW scorching performance and a memorable soundtrack.
Subtle exterior styling also makes this a brilliant Q-car, and it comes with plenty of creature comforts to ensure it's easy to live with every day.
The automated manual box makes progress a bit jerky in town and the early iDrive system is tricky to use, but it's a classy, comfortable way to go fast.
Around 1,800 M5s were sold in the UK, and we spotted one with 83,000 miles on the clock and a full dealer service history going for just £16,995.