Porsche Boxster
Fancy owning a Porsche for less than £5,000? The Boxster is a great used buy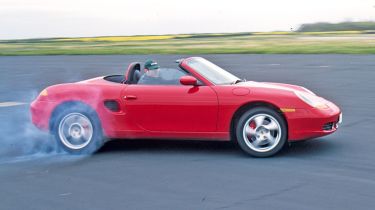 The smaller Porsche Boxster and Cayman models have often outperformed the 911 in our annual Performance Car of the Year tests. However, some people still don't consider them 'proper' Porsches – and as a result, the earliest Boxsters are now going for silly money, with 2.5-litre cars fetching as little as £3,500.
That's an absolute steal for one of the best drivers' cars there is. The original Boxster has the same communicative steering as a 911, yet the mid-engined layout means it's a bit more stable, while remaining just as entertaining to drive as its bigger brother.
As the engine is hidden away in the middle of the car, you're not going to be able to do too much work on it yourself – and because it's a Porsche, it'll cost more than the average car to fix. But there are many independent specialists about, so you can save a hefty amount over main dealer servicing.
Our search brought up a 2000 Boxster with the larger 2.7-litre flat-six for £5,000. It had 80,000 miles on the clock, but came with a host of goodies, as well as a service history.