Renaultsport Clio 200
The latest Renaultsport Clio can now be had for less than £10,000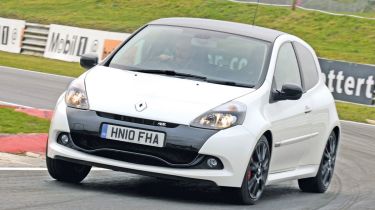 Few hot hatches can match the raw thrill of a Renaultsport Clio – and a nearly new Clio 200 is now yours for less than £10,000.
You don't get much for your money in terms of mod cons, but thanks to the purity of the front-wheel-drive chassis, steering that buzzes with feedback and virtually unbreakable grip, the hot Clio would be able to leave your average supercar for dead on a tight and twisty B-road.
The free-revving naturally aspirated 2.0-litre petrol engine is hooked up to a sharp-shifting six-speed box, although this combination can make for tiring motorway trips.
A £10,000 budget will get you a post-facelift Clio 200 with only a handful of miles on the clock, and you have the choice of standard or Cup versions of the car. The latter is even more focused, with luxuries like the air-conditioning removed in a bid to save weight. As a compromise, you can get the standard car with the Cup suspension.
The 13,000-mile 10-plater we found had the Cup suspension pack, and was on sale privately for £9,995 – although there's quite a lot of choice at this price.