Mitsubishi Lancer Evo X
The rally-bred Mitsubishi Evo can be yours for less than £15,000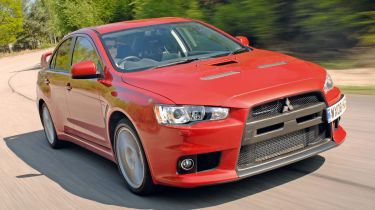 Thanks to tougher emissions regulations and the freefall of rallying from the world stage, the Evo X will probably go down as the last-ever four-wheel-drive supersaloon Mitsubishi built.
The entry-level FQ-300 model is fast and fun, but easier on its brakes, tyres and transmission than even more powerful versions of the Evo X. Performance from the 2.0-litre turbocharged engine is still devastatingly quick, though, with 0-62mph in under five seconds. And there's so much traction and grip in corners that it will easily outmanoeuvre most supercars.
Servicing will be expensive and you can expect to be hit hard in the pocket on fuel, but not many cars can keep up with an Evo X on wet British B-roads.
We managed to find a tidy low-mileage example in striking red and with a full service history for just over £14,000 – and if you shop around, we have no doubt you could get the keys to one of these automotive legends for as little as £13,000.