New McLaren electric car to target Porsche Taycan
McLaren is planning a new all-electric sports saloon and our exclusive image previews how it could look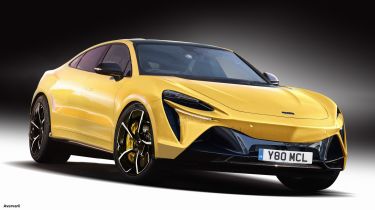 McLaren's new CEO, former Ferrari Chief Technical Officer Michael Leiters, has said the British firm isn't thinking of a pure-electric supercar just yet, but a sports saloon to rival Porsche's Taycan (previewed in our exclusive image, above) and an SUV are part of McLaren's electrification plans.
Speaking to Auto Express's sister title evo, Leiters revealed that he wasn't presented with any shocks when taking over from former McLaren CEO Mike Flewitt, saying that: "Some things were worse, some things were better." He added that some areas were as poor as he expected, with quality being the top of that list.
"What I heard from my team is that in the past, we accepted a non-mature product and would launch it and deliver it to customers. The Artura was the first project where we didn't do that. We saw that the car wasn't mature, so we stopped deliveries. Doing this risked the financial position of the company, but I think this was important."
While sports and supercars will remain at the heart of McLaren's product strategy, Leiters will also guide the company into its electrified future, which has already begun with the hybrid Artura. However, while the obvious next step would be for McLaren to produce a hypercar EV to rival the Lotus Evija, Leiters believes the technology isn't yet advanced enough, so instead he intends to task his team to focus on more conventional electrified vehicles.
"The technology is much more mature [and allows us to] customise it to have a more lifestyle, a more utility purpose.
"Words like 'utility' or 'lifestyle', you'll obviously leap to certain conclusions. I think the key measure for McLaren is potentially something with the ability to share with more occupants in the car. Not necessarily higher-riding, but it could be."
Any electric McLaren will need to meet Leiters' strict lightweight philosophy and McLaren's dynamic DNA, that's a given, but it will also need to command a price tag of at least £200,000, a figure he believes should be the entry point to McLaren ownership. "We need to focus on profitability, not volume," he said.
In order to deliver on his strategy, Leiters is also well aware he's going to require a technology partner. However, the rumours of Audi buying McLaren have been categorically put to bed. Nevertheless, there is an expectation that BMW, which helped McLaren with the development of the Artura's hybrid powertrain, is open to expanding its relationship with McLaren.
Click here for our list of the fastest electric cars in the world...