Mercedes B220 CDI 4MATIC review
Can the new version of Mercedes B-Class premium MPV make the grade in B220 CDI 4MATIC Sport guise?
The changes may be small but they are needed to keep the B-Class near the front of the class. The B-Class remains a top choice for premium MPV buyers and trades on a stylish image and a quality cabin. Whether it is enough to beat the BMW 2 Series Active Tourer, a key rival, is yet to be seen. We'll reserve judgement until a UK first drive.
You have to stare very closely at the pictures to notice this is the new Mercedes-Benz B-Class, updated and revised to keep up with the newer BMW 2 Series Active Tourer. But trust us – it is new.
You can't really blame the German giant for not letting its designers get creative with their pens and pencils as the B-Class has been a great success for the company. Since it arrived in 2011 the B-Class has clocked up more than 350,000 sales worldwide – over 25,000 of those have been in the UK too. Roughly 8,000 are sold in Britain a year and 40 per cent go to the fleet market. Mercedes didn't want to rock the boat too much with this mid-life refresh. It receives a redesigned bumper at the front with larger air intakes either side of the wider grille – a fashionable trick to give a car more visual presence – and, if specified, new LED headlights. To the rear there's another new bumper and a pair of LED taillights.
The B-Class scores highly in the space race too. The boot space measures 486 litres with the seats up (18-litres more than the BMW 2 Series Active Tourer) and when the seats are folded, total boot space jumps to 1,547 litres. The B-Class also has a two-level boot floor - so buyers can choose between a spacious boot or one that is easier to get things out of - and a sliding 60:40 rear bench seat aiding interior space.
Inside, it's much the same so there's a well-built cabin full of nice design details and plenty of space. However, those who don't like the look of Mercedes' iPad-like multimedia screen perched on the dash look away now, it's now grown to eight-inches corner to corner. Also new are a number of trim finishes and textures (including a dubious carbon-look weave), while dials in the instrument binnacle and the interior are now available in 12 colours thanks to a new ambient lighting system.
The engine line-up is the same as before, though, so there's a pair of petrols – both 1.6-litres in size and available with 120bhp and 154bhp – badged B 180 and B 200. Four diesels are offered: the most efficient of which is the B 180 ECO with a 108bhp 1.5-litre diesel that delivers 78.5mpg and emits 94g/km of CO2.
There's also a 2.1-litre diesel available in 134bhp, 167bhp and 175bhp outputs – the latter of which can come with 4MATIC all-wheel-drive. Next year there will also be a full-electric B-Class promising a range of around 115 miles.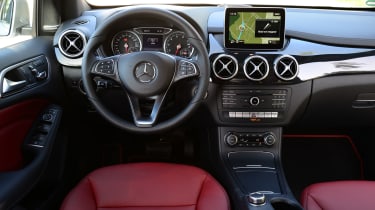 We got behind the wheel of the B 220 CDI 4MATIC in Sport trim and while the 2.1-litre engine is a bit clattery under revs, inside is a quiet and refined place to be. Our car rode on the standard comfort suspension setting – standard on SE and Sport models – which is a must for this type of car.
The top-of-the-range AMG Line has lowered suspension along with the sporty styling, but it's in direct contrast to the driving experience which is always errs towards relaxation rather than thrills. So there's afair degree of body roll and the steering has little feel, although it is precise – but this is no bad thing, it is an MPV after all.
Speaking of trims, the SE kicks off the range at £21,445 and has 16-inch wheels, 'Artico' fake leather interior, iPhone connectivity, a reversing camera and a seven-inch colour display in between the rev and speed counters. Sport comes in at £595 more and adds larger 17-inch wheels and ambient lighting while AMG Sport (a further £1,295) features sportier AMG body styling.