More 4wd Mercedes AMG models on the way
The Mercedes C63 AMG is one of many four-wheel drive AMG models being considered, Auto Express has learned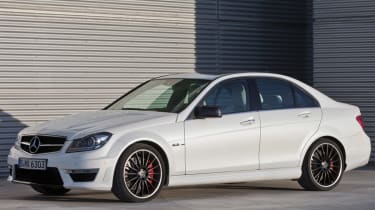 More four-wheel-drive Mercedes AMG models are on the way, with a four-wheel-drive version of the Mercedes C63 AMG currently being evaluated by Mercedes' high performance arm.
We spoke to AMG's senior powertrain engineering manager, Dr Jorg Gindele, at the launch of the facelifted Mercedes E-Class and E63 AMG. In addition to the left-hand-drive-only E63 AMG 4MATIC and forthcoming A45 and CLA 45 AMG models which will be available in right-hand drive, he confirmed that a four-wheel-drive C63 AMG was being evaluated, too.
Gindele added: "Yes, a C63 is possible. There is one car already [a prototype at AMG's headquarters in Affalterbach, Germany]. I know this because it's my car!"
In order to make production, the business case for all AMG models has to be signed off by Mercedes' board of management. However, AMG boss Ola Kallenius does have a budget to spend on the design and building of experimental prototypes – "90-95 per cent of which is done by modifying actual cars, rather than working on computers," Gindele said.
He added that this is how the C63 Black Series came about, "just because one of the engineers thought that it would be a good idea. So we built it…" He also said that a Black Series version of the current E63 towards the end of its life could be possible - just like any model, such is the scope of the performance arm's remit - but only if AMG went back on its decision to only produce two-door Black Series models.
In addition to the potential arrival of a four-wheel-drive C63, a four-wheel-drive GLA 45 AMG version of the firm's new GLA SUV - due to be unveiled in concept form at the Shanghai Motor Show - will be sold, with a particular focus on the US market.
Gindele also told us that a four-wheel-drive AMG version of the new Mercedes S-Class will be made, but that the forthcoming SLS Electric Drive supercar is unlikely to spawn more electric AMG models. "It's important for AMG to do a car like this, but it weighs over two tonnes. I sat down and did the sums and realised that the SLS only does the equivalent of 15 litres [per 100km, or 18.8mpg]."