Mercedes GLA video review
We test the new Mercedes GLA on and off-road, and try out the powerful GLA 45 AMG version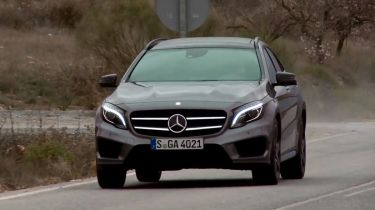 The Mercedes GLA might be referred to as a small SUV, but really it looks more like a larger, more comfortable version of the A-Class. It's taller than the hatchback it's based on, but is actually much smaller than the Audi Q3.
The GLA's comfortable and refined ride rights our main complaint about the fidgety and sometimes uncomfortable A-Class.
It's not at the expense of handling either. There's more bodyroll than the A-Class, but not enough to stop you having fun, and the steering is sharp too.
We'd go for the diesel versions, which do lose some refinement, but the improved running costs do sweeten the deal somewhat. The Automatic gearbox is pretty good, but you might want to think about going for the manual instead.
Although most customers will go for the standard petrol and diesel models and never take it off-road, for those wanting something extra it does have another couple of strings in its bow.
Later this year you'll be able to buy a special off-road pack for the GLA , which adds a few basic off-loading features to help traverse muddy fields or bumpy dirt tracks.
If you prefer something quicker, AMG has worked its magic, too. Like the A45 and CLA 45, the GLA 45 AMG features a 355bhp 2.0 turbocharged engine. It's a bit slower to 60 thanks to the higher weight, but in reality you'll never really feel the difference.
In the end apart from a comfier ride and basic of-road ability, the Mercedes GLA is mainly about the extra space - the boot is 40% bigger than that of the A-Class. Forget was Mercedes say, think of it less as an SUV and more as an A-Class estate.