Mercedes-Benz Marco Polo camper van revealed
New Marco Polo camper van from Mercedes looks to muscle in on Volkswagen California's territory when it launches in Germany
This is the Mercedes-Benz Marco Polo, a new compact camper van to rival the Volkswagen California that has debuted at the annual Caravan Salon exhibition in Dusseldorf.
Based on the standard V-Class and developed with the help of Westfalia, it seats or sleeps up to four people and comes complete with a kichenette, wardrobe and retractable table.
Styling-wise there's liberal use of porcelain colours throughout the cabin, plus a choice of light or dark decking for the floor and a range of satin beige and black seat trims, including Lugano leather upholstery. Completing the upmarket look and feel, only LED lighting is used throughout the interior, with optional ambient lighting available for the kitchenette.
• Best VW camper van conversions
When it comes to mealtimes, the Marco Polo features large and small self-closing draws, two hobs, a refrigerator, extending worktop and even a kitchen sink. Sitting down to eat shouldn't be an issue either, as the scratch-resistant folding table fits neatly between the rear bench and the driver and front passenger seats, both of which can rotate 180 degrees to face the rear.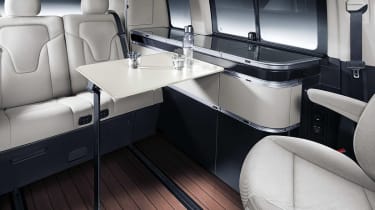 After occupants have had their fill, a split backrest means the rear seats can be independently flattened in a matter of seconds at the touch of a button, forming a fairly snug double bed. A slightly larger foam mattress is also located under the pop-up roof, which boasts improved legroom over the previous model and can be fitted with a protective net to stop children falling off the front edge.
Prying eyes, light and heat from the sun are kept out by tinted rear glass, and there's also a curtain for the windscreen and front side windows when it's time for a complete lights out. Finishing off the Marco Polo's glamping aesthetic is a portable chairs and table set for outside use, these are stored in a bag within the luggage compartment when not in use.
When actually driving, there's also comfort suspension as standard for ease of use, and a 1.98m high roofline shouldn't have any trouble getting into garages, car parks or low-level bridges.
As you'd expect, there's a whole host of safety features and driver assists, including Mercedes' Active Parking tech, Attention Assist to warn against drowsiness, and optional 360-degree cameras.
Power comes from any of three four-cylinder turbodiesel engines, ranging from 134bhp and 188bhp, with the 161bhp 220 CDI capable of 47mpg while emitting just 158g/km of C02. For the flagship 188bhp CDI, an 'over-torque' function briefly boosts output by 13bhp and 40Nm of torque, offering 201bhp and 480Nm under heavy acceleration.
Set to go on sale in Germany at the end of July, there are currently no plans to bring the Marco Polo to the UK. Mercedes could be tempted to introduce the camper van over here if there is sufficient interest though, with prices likely to start from just over £45,000.
How do you like Mercedes' chances of muscling in on Volkswagen's camper van territory? Could the three-pointed star ever become the badge to have in this market? Let us know in the comments section below...