"The new MG Cyberster will cast its light across the brand's whole range"
Editor-in-chief Steve Fowler thinks the new MG Cyberster will be used as a vital tool to further improve the brand's other models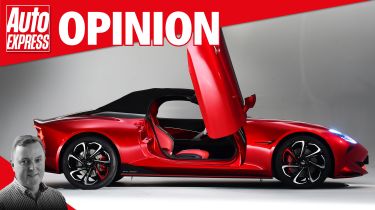 Did we ever really think we'd see the day when a new MG roadster would grace the front cover of Auto Express? We've teased it often enough and been asked about it often enough, but when it comes to the harsh realities of business, signing off an all-new, all-electric roadster takes some guts.
No matter how dewy-eyed we all get about them, roadsters don't sell in big numbers. On their own, they're not really going to boost the bottom line, which is why so few car makers produce them these days, preferring to churn out another SUV to please the shareholders.
But that's not the point. Nobody is expecting the new MG Cyberster to break sales records. But what is expected is that it will make a big impact. I reckon it will do just that, shining a valuable light across the rest of the MG line-up that will provide a real boost to the business.
MG has clearly taken a leaf out of Mazda's book. The MX-5 sells in tiny numbers compared with its heyday in the nineties. But as one Mazda engineer told me, there's a bit of MX-5 in every Mazda – which is no bad thing. Whether that's the feel of the gearshift or the steering feedback, Mazda's little roadster plays a big part in the firm's past, present and future.
The new incarnation of MG is one of the biggest sales successes of recent times. Huge growth has come off the back of great-value cars that buyers find really appealing. And I don't blame them – I love the MG4 family hatch.
In musical terms, it's now time for MG to move on to that difficult second album. How does it follow up the initial success with a new range of cars? Simple: sprinkle a bit of Cyberster stardust over it – just as Mazda does with the MX-5. It's designed to make you want an MG more; to give the brand a lift. And I reckon it'll do that brilliantly.
Do you agree with Steve? Let us know in the comments section...