New MG Cyberster details: supercar power, zero emissions and a £50,000 price tag
An all-electric roadster, the Cyberster will be a unique proposition with a 3.2-second 0-62mph time
Drop-top electric cars are a rare breed but MG thinks it can storm the niche sector with its upcoming MG Cyberster. We've uncovered more details on the electric roadster from MG's Chinese site, highlighting range, performance and safety features. 
We already know the Cyberster will be priced around £50,000 when it goes on sale around summer 2024 and the British public has already had a first look at it in the metal when it went on display at the Goodwood Festival of Speed this year.
Now Auto Express has actually been behind the wheel of the MG Cyberster in single-motor guise over in China, the car impressing us with its dynamic ability, comfort and technology. 
Created in London by SAIC's advanced design studio, the Cyberster project was prompted by MG's burgeoning success in the UK and abroad, but also as a celebration of the brand's centenary. This two-seat, all-electric roadster isn't just new for MG, but it's also the first real-world realisation of a whole new type of car. 
Ignoring the original low-volume Tesla Roadster, the MG Cyberster will hold the title of being the first bespoke, ground-up all-electric roadster. An expression of intent by MG that sees itself as a true innovator, and one that will appeal to buyers not just for objective reasons, but on the grounds of desire. 
The Cyberster has been designed to be a halo product for the firm in the UK, and to sell in reasonable volumes all over the world, including MG's home Chinese market. As differentiation between territories goes, the UK and Chinese markets are perhaps as disparate as they come, making the job especially complicated. British buyers have a very direct and literal connection to MG, while its Chinese audience has a very different association with the brand, and therefore different expectations.
MG Cyberster battery, range and performance 
The Cyberster runs an all-electric platform with a large battery pack fitted under the cabin floor. New figures found on MG's Chinese website show three powertrain configurations. Starting out is the single-motor 64kWh battery model with a 0-62mph time of 4.9 seconds, a top speed of 120mph and a power output of 309bhp. The maximum range figure is stated as 311 miles but this (like the other range figures below) is under the Chinese CLTC process, so don't expect it to carry over to UK cars. 
Above this is the single-motor version with the large 77kWh battery. Despite the larger battery and increased 335bhp power output it'll do the 0-62mph sprint also in 4.9 seconds, although top speed is upped to 121mph. Both single-motor Cybersters come with 475Nm of torque. Range stands at 360 miles (CLTC) for the 77kWh single motor.
The dual-motor Cyberster comes with the 77kWh battery and 536bhp and 725Nm of torque heading to all four wheels. This enables a 0-62mph time of 3.2 seconds and a top speed of 124mph. With the onus on performance rather than efficiency, range takes a hit compared to the single motor version, with the dual-motor topping out at 323 miles (CLTC). 
Partnership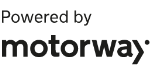 Need to sell your car?
Find your best offer from over 5,000+ dealers. It's that easy.
MG might be first to the electric roadster world, but it won't be the last. Porsche is hot on its heels with an all-electric replacement for the Boxster due to be revealed in 2025. However, before we get into the plausible comparisons between the two, it's worth noting how incredibly ambitious MG has been in creating the Cyberster, which has the job of completely transforming our impression of the brand, again. While we're still a long way from pricing announcements, MG is said to be targeting a £50-60,000 price point, which is certain to be significantly lower than that of its German rival. 
MG's lineage isn't one that can be drawn in a straight line, yet this factor has been a freeing force in this ambitious new future. You may think you know MG, but if SAIC has anything to say about it, expect that interpretation to be shattered in the coming years. Chinese brands are coming out in force, but how brilliant that one of these stories features a great British marque at its centre. 
MG Cyberster design and scissor doors
Carl Gotham, head of SAIC's advanced design studio in Marylebone, spoke to Auto Express regarding the design process of the Cyberster. "This is a big moment for MG, so it has to make a big impression," he tells us. "We wanted something that was going to stand out. Something that wasn't too meek or demure." Gotham and his team of 20-or-so designers were given some extraordinary freedoms in the car's overall design and packaging.
Thanks to the flexibility granted by electric powertrains, elements such as the long bonnet and short rear deck were able to be realised, tapping into those traditional British sports-car proportions, but they needed to do so in a thoroughly contemporary style. "We're not trying something to reinvent this typology, or do something completely alien," Gotham says. "This is an electric car, but we didn't want to feel too attached to the technology, so as not to feel too stark or too cold. We wanted this car to feel a little more passionate."
The nose is long, low and sculpted, with a heavily contoured bonnet sitting above carefully considered openings that are functional, but don't directly reimagine the historic MG grille design. A huge MG badge, which will be illuminated in certain markets, is flanked by two modern headlights that create a dramatic daytime-running-light signature. From these, there's a single line that then folds over the front wing and onto the doors to create the main character line along the car's flank. 
A striking feature that will make production are Lamborghini-style scissor doors, an element usually reserved for the most extreme supercars and hypercars. While not a priority for legacy markets such as the UK, this was an essential element that MG wanted to integrate to really get customers in emerging markets talking – and it certainly makes a statement.
Along the side of the car, we perhaps see the team's most innovative design element in the blacked-out body sections that sit right up at the window line. This use of black bodywork tricks the eye into thinking the sheet metal is more slender and more curvaceous than it actually is, bringing the production model closer to the more extreme Cyberster Concept. This visually thins the bodywork just at the point in which the rear haunch begins over the wheels, exaggerating these lines. It's a very clever, and effective, way of bringing some of the Cyberster Concept's wilder design elements to the road.
The rear is where Gotham and his team left the classic British sports car behind, instead adopting a design that links the Cyberster with its fellow EV models in the MG range. The squared-off rear end is framed in a dramatic LED lighting element, with two further arrow-shaped elements within the sculpted interior surfaces. As well as being a literal turn signal, they also gently reference the Union Flag, albeit in reverse. 
Different models will have various wheel and tyre sizes, but the near-production model seen here features a relevant 20-inch package. The electrically powered fabric roof is a quick and simple z-fold design, with the front section forming the tonneau when stowed. Underneath the fabric is a semi-rigid structure to improve roof-up refinement and security when parked. 
MG Cyberster interior and technology
The interior was designed by the central SAIC design team in Shanghai, who came up with a tech-heavy cabin that was inspired by gaming. The controversial yoke steering wheel is still only under consideration for the UK, but will be available in overseas markets. 
The dash is dominated by four digital interfaces. A three-piece screen displays all the driver information, infotainment controls and driver-assistance tech. Gotham says: "We're trying to design for China, which is a very technology-driven market that's more obsessed with the user experience, where you're in traffic all the time. So the need to have a relatively entertaining space comes up very often. From a British perspective, we don't want too many distractions."
The smaller, portrait-orientated screen on the dash is reserved mostly for auxiliary functions and the climate control. Next to it is a stack of drive-selector buttons, with some touch-sensitive switches to control the drive modes and commonly used features such as the heated seats. Because this is still an early indication of the future road car, this interior is considered to be around 90 per cent production-relevant, so we expect some small changes to the layout come series production.
Cyberster from concept to reality
The Cyberster Concept was designed at SAIC's London studio as the ultimate reimagination of the MG roadster. Its design came by bridging the gap between MG's heritage and a modern future, one inspired by gaming and future tech. 
There have been some big changes in designing the road car, including removing the LED stripe along the side and a more realistic set of proportions. But remarkably most of the concept's design elements have made it onto the production model, including its driver-focused interior and scissor doors.
How to redesign an icon: Carl Gotham Q&A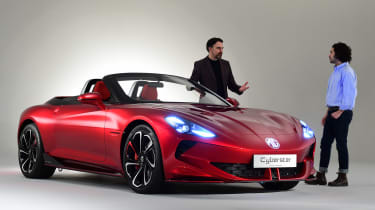 Carl Gotham, the head of SAIC's advanced design studio in London, tells us about designing the Cyberster and the expectations surrounding a new two-seat roadster for a company that made its name building iconic sports cars.
Q: How did the Cyberster project come about?
A: It's an obvious sort of thing: a sports car for MG. We've wanted to do it for a long time, but timing in a growing business was part of the challenge. We started this project in a serious way in 2018, when I took over as director of the UK design team. Putting the technology being developed for our EVs, such as the EV4, into an open-top sports car felt like a really interesting combination.
Q: What's the key element that draws a clear line between past MGs and the new Cyberster? 
A: The two lines on the lower grille that then translate up and over the bonnet, with the MG logo at its centre, are our clear nod to the iconic design motif that has been used across MGs since the very beginning. It's something we use in all MG products, but probably makes the most sense in this application. 
Q: What were the challenges of changing the concept to production?
A: The biggest challenge, as with any project like this, was to keep the essence and the spirit of the original idea. Compared with a traditional roadster, which is always generally quite compact, it's not quite easy to match that, so we've got a car that's a little bit bigger and more grand. It's not a petite car, but if you look at an MGB, the proportions are still relevant, and quite elegant.
Q: As a British designer, do you feel the pressure in reimagining the MG Roadster?
A: There are going to be big expectations on this car. Everyone will have an opinion, but I don't think there's one answer to this question. MG, as a brand, doesn't have a linear history, but at the core of it is the open-top sports car, and ensuring that it remains accessible to more people.
Q: What were the challenges of trying to fit a two-seat roadster onto a pre-ordained technical package? And at the other extreme, were there any opportunities?
A: The windscreen position was key to the proportions we were trying to achieve. There is freedom and flexibility with an electric car. There's a ground line that we want to keep low, and then the battery line. To get the seat as low as possible and keep the hip-point low.
Q: What element are you most proud of?
A: The front end and the front wing. We've got an elongated front surface with a crease and character line. With the face, we're trying to make it a little more open and friendly rather than a super-aggressive sports car.
In the market for a drop-top? These are the best convertibles on sale right now...