MG Dynamo electric car revealed
MG Dynamo concept to move brand away from classic car image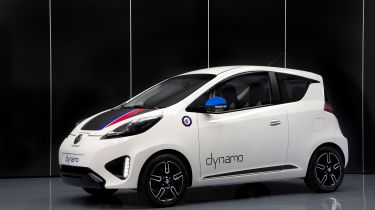 MG is attempting to shrug off its classic car image with the Dynamo electric concept. It's a preview into the brand's potential future plans and also marks MG's 90th anniversary.
Unveiled at a private event in London last week, the Dynamo has been developed in order to fully understand European market demand for a small electric MG and previews the latest design and technology from the manufacturer. If the concept is well received and feedback is positive, MG will consider putting the Dynamo into production.
Although the Dynamo points MG in a whole new direction, the model is actually based on an existing car from sister company Roewe. Under the skin is a revised version of the Roewe E50 electric vehicle sold exclusively in China – both MG and Roewe are owned by SAIC Motor.
The Dynamo measures in at 3569mm long, slightly larger than a Volkswagen e-up! but is around 59kg lighter weighing 1080kg. Performance figures announced so far reveal the Dynamo will use a 71bhp electric motor developing 155Nm of torque, enough it to get from 0-31mph in 5.3 seconds. That puts it a yard or two behind what would be its key rivals and the 50 mile range on a single charge also falls short of claimed 90 miles offered by the e-up!
A full charge for the Dynamo is said to take up to six hours from a standard power source but an 80 per cent charge can be achieved from a rapid charging point.Later in the year Auto Express will be getting behind the wheel of the Dynamo, highlighting MG's potential plans for mass-production. We also understand a more comprehensive charging infrastructure and dealer network would need to be introduced before MG pushed ahead with production.