MINI Canyon gunning for Range Rover
Three-door Countryman due in 2012 and 4WD model will go head-to-head with Range Rover Evoque.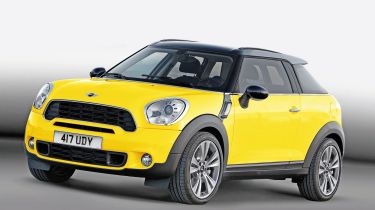 For a brand with such compact origins, MINI sure has grand plans! Auto Express has uncovered details of what insiders have dubbed the Canyon, a striking three-door model based on the Countryman that's set to go head-to-head with the Range Rover Evoque.
The Canyon was first put forward in 2005 as one of several ideas for future MINI models. However, it was the Beachcomber concept – which recalled the original Mini Moke – that emerged as the front-runner for future production. It was turned into a concept and spawned the Countryman crossover.
But strong public response to the concept persuaded bosses that the idea of a fun and fashionable crossover spun off the Countryman had a strong chance of success.
The Canyon aims to realise MINI's performance aspirations and is positioned above the Countryman on which it's based, much like the forthcoming MINI Coupé is with the regular hatch. That car shares the same underpinnings as the Countryman, but with a dramatic roofline and two-seat interior.
The Canyon is likely to use a shortened version of the Countryman's chassis, giving it two doors and a striking exterior design which features a sporty coupé-like roofline.
On the inside, four John Cooper Works-inspired seats upholstered in leather and Alcantara add to the upmarket feel. Under the skin, the Canyon will use the ALL4 four-wheel-drive system as standard, and be powered by the 208bhp 1.6-litre turbo engine from the JCW car. A 201bhp 2.0-litre diesel from BMW's X1 is also likely to be offered.
By expanding its all-road range, MINI is paving the way to an increasingly likely entry into the World Rally Championship. The series switches to 1.6-litre turbo engines next year, making the Canyon a prime candidate to be turned into a rally car with specialist Prodrive the favourite to run the project.
MINI's Oxford factory will be running at full capacity once production of the Coupé and Roadster begins next year. So the Canyon would join the Countryman in being built at the Magna Steyr factory in Graz, Austria, but a production car is unlikely until 2012.
The Canyon would also spawn a car inspired by the Beachcomber to launch a year later, with a stripped-out interior and removable roof panels.