MINI Rocketman back on?
New MINI Rocketman has been spied on a video shoot in London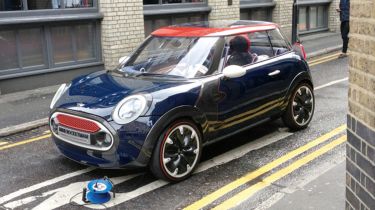 Is a production version of the MINI Rocketman back on the table? The idea of a 'mini' MINI was canned last year, due to the cost of the project, but this picture – which surfaced on Twitter via @conallmahon – has reignited hope that it will be built.
The car was finished in a new blue and red colour scheme (the original concept was grey and black), and was snapped during a video shoot in London. But details are very scarce.
Carbon fibre bodywork and clever packaging mean the Rocketman is only 40cm longer and 50cm wider than the original MINI, and still seats four.
It's practical and quirky, with floating tail-lights and double-hinged doors, while the  original concept's fuel economy was estimated at around 94mpg.
So why would the company be shooting promotional film on a car it doesn't intend to build?
MINI UK refused to comment, so we'll have to wait to find out exactly what the refreshed Rocketman concept means for the future line-up.