MINI John Cooper Works: a history of the hottest MINIs around
The MINI and Cooper names have been linked since the 60s and the John Cooper Works badge is still reserved for the ultimate versions
Throughout the Mini's history, owners have been overcome by the desire to make their pocket rocket go even faster. There's a thriving aftermarket industry, although one name's become synonymous with fast Minis: Cooper.
The original Mini Cooper appeared in 1961, when Formula One team owner John Cooper bored out the standard car's engine and fitted it with twin carburettors. He also added disc brakes and a close-ratio gearbox – and the car was a hit on the rally stages and with the buying public – which is why BMW revived the Cooper badge when it launched the new MINI in 2001.
• Classic Mini vs modern MINI: which is the better car?
Cooper, Cooper S and even Cooper D badges have graced every version of the new MINI that's been sold since the brand's revival for the 21st century, but the fastest and sportiest models of all bear the John Cooper Works name plate.
However, the very first JCWs weren't factory models, as the John Cooper Works company was founded by John's son Michael Cooper as a tuning outfit for the new MINI.
John Cooper Works' first offering was a Tuning Kit for the standard MINI Cooper in 2001, which only boosted power by 11bhp to 126bhp, at a cost of around £1,500. Nevertheless, it had BMW's blessing, so the standard MINI warranty was still valid.
In 2002, the Cooper S Tuning Kit was released, boosting the supercharged car to 200bhp. This kit could be fitted at a MINI dealer, and brought uprated engine parts and a new exhaust, as well as subtle John Cooper Works lettering.
• The future of MINI: head man Jochen Goller reveals all
Another upgrade in 2005 added an extra 10bhp, although with a price tag of £3,600 for the Tuning Kit, these early JCW models are rare indeed. Come 2007 and the second-generation MINI, the turbocharged Cooper S had a similar performance upgrade. But everything changed in 2008 when BMW bought John Cooper Works, and also launched the first factory-built JCW version of the car.
This allowed MINI to properly develop the performance model to pack 211bhp. It also fitted an electronic limited-slip differential, Brembo brakes and BMW's advanced Dynamic Traction Control system. The result was one of the fastest and finest-handling hot superminis you could buy, and few cars could match its performance-per-pound ratio.
• Paddy Hopkirk and the Mini that won the Monte Carlo Rally
Both generations of JCW proved a hit with performance car fans, but MINI took these models and built a pair of extreme versions to send off their respective generations in style. The GP models got even more power and spoilers front and rear for more downforce , while the back seats were replaced with a roll cage to finish off the road-racer feel.
The GP models featured mechanical parts from the MINI Challenge one-make race car, and both of these special editions delivered stunning performance and pin-sharp responses. What's more, as production for both versions was strictly limited to just 2,000 examples, the GP cars are still desirable today.
John Cooper Works MINIs: the range in full
John Cooper Works Tuning Kit (2005)
Price new: £18,785Engine: 1.6-litre 4cyl supercharged, 210bhp0-62mph: 6.6 secondsTop speed: 143mph
John Cooper Works GP (2006)
Price new: £22,000Engine: 1.6-litre 4cyl supercharged, 218bhp0-62mph: 6.5 secondsTop speed: 149mph
John Cooper Works (2008)
Price new: £21,220Engine: 1.6-litre 4cyl turbo, 208bhp0-62mph: 6.5 secondsTop speed: 147mph
John Cooper Works GP II (2013)
Price: £28,790Engine: 1.6-litre 4cyl turbo, 211bhp0-62mph: 6.3 secondsTop speed: 152mph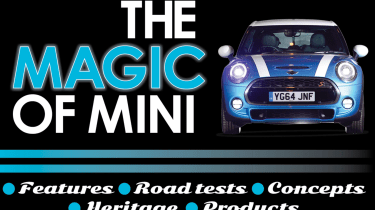 The Magic of MINI: special feature
• The future of MINI: head man Jochen Goller reveals all• Classic Mini vs modern MINI: which is the better car?• How many MINIs? The MINI range reviewed• Eight design innovations that made the MINI• MINI John Cooper Works: the hottest MINIs arround• MINI's greatest concept cars• Paddy Hopkirk and the Mini that won the Monte Carlo Rally• Can the new MINI 5-door really be used as a family car?• MINI Countryman ALL4 Racing Dakar Rally ride review• MINI UK factory: how we make the MINI• MINI adverts: the campaigns that built the brand• Win a MINI for a year