Can the new MINI 5-door really be used as a family car?
Two families, two weeks: how will the new MINI 5-door fare in our practicality test?
Week one: The Wilson family
Darren, Dawn, George (14) , Harry (9)
My family has grown up with MINIs. I tested my first One 11 years ago, when my elder son, George, still needed a child seat and buggy. Then I ran an original Countryman and appreciated all the extra space and practicality (and those pumped-up looks). So I couldn't wait to get behind the wheel of the new five-door Cooper. Could it really retain that magical MINI fun factor and still free up space for my rapidly growing boys' legroom? You bet – and then some.
To be honest, my entire family was won over purely by the look of the car as soon as I pulled up outside our house. The chrome grille, metallic blue paint with a white roof, bonnet stripes – rarely have I seen them so excited. They didn't even notice the two extra doors to begin with!
• MINI's greatest concept cars
This illustrates how clever MINI has been in generating all the extra room and boot space while retaining the hatchback styling. And on the road? My wife Dawn loves the low driving position and the feeling of being 'grounded' while cornering, although she does have to keep checking the speedo as she feels like she's driving too fast. The car is also a very stylish way to deliver the hats she makes as part of her millinary business.
Both my boys rave about it, too, as it ticks the 'cool' box for them. George actively asks to be dropped off at the front of the school and can fit his lanky legs (and a couple of guitars) in the back, while Harry likes the rear styling and throaty engine noise.
I was hooked on the very first drive home from the office. The letterbox-shaped windscreen still reminds me of the original MINI. It's like 'driving in widescreen' – and I absolutely love it!
Week two: The Hope family
Graham, Seema, Isla (5) and Erin (2)
Darren couldn't have been more effusive in his praise when he handed over the keys to the five-door, but I have to be honest – I had reservations about how it might cope with my family.
My two young daughters Isla and Erin don't travel light, and we've been used to estates and SUVs in recent times. Could we really cope with something much smaller, albeit now with a family friendly five-door layout?
I needn't have worried. Sure there were one or two compromises to be made, but with a little planning we made our time with the MINI work well – and of course, just like Darren, dad loved driving it.
Our first challenge, of course, was to fit the girls' child seats. Initially I was sceptical we'd be able to squeeze Erin's swivelling Maxi-Cosi Axiss and Isla's Kiddicare booster in, but by moving the front seats forward and angling the kids' seats precisely through the rear door openings, we were off to a decent start. Securing the seats themselves was straightforward enough – casings around the Isofix points made locating them easy.
The next issue was boot space – would the MINI's 278 litres be sufficient to accommodate Erin's Bugaboo buggy, which travels with us everywhere, and Isla's scooter? Again, no problem. They fitted in comfortably, although admittedly there wasn't an awful lot of room left when we made our weekly trip to the supermarket – some of the shopping had to sit in the rear footwell.
To be honest, though, that was no big deal. Because once we had all our gear in situ, the MINI proved itself more than capable of ferrying around a young family. Getting the children in and out on a daily basis was no great chore, and predictably Isla loved how it looked.
Sure, using the MINI to go on holiday might be a challenge, but for regular day-to-day use? It's absolutely fine.
And the real highlight? Well, for me it was simply looking forward to every journey on account of how enjoyable it is to drive – even when you have to rein things in as the kids are in the back. Great news, then, for the dads of the UK. Here's an affordable car they can look great in and drive spiritedly – plus still move their family from A to B. Perfect!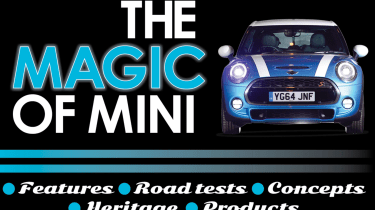 The Magic of MINI: special feature
• The future of MINI: head man Jochen Goller reveals all• Classic Mini vs modern MINI: which is the better car?• How many MINIs? The MINI range reviewed• Eight design innovations that made the MINI• MINI John Cooper Works: the hottest MINIs arround• MINI's greatest concept cars• Paddy Hopkirk and the Mini that won the Monte Carlo Rally• Can the new MINI 5-door really be used as a family car?• MINI Countryman ALL4 Racing Dakar Rally ride review• MINI UK factory: how we make the MINI• MINI adverts: the campaigns that built the brand• Win a MINI for a year