MINI One review
Higher-spec versions of new supermini have impressed. Now we try entry-level MINI One
This new MINI One makes the old car feel like a MINI Zero. And it's largely down to the engine, which has helped create a car that feels almost as quick as the Cooper. The skinny tyres mean the handling isn't as sharp as it could be and it's lacking a bit of style as standard, too. But we say save £1,550 over the Cooper and spend it on some design upgrades.
While MINI is busy introducing all-new models like the five-door and experimenting with concepts such as the Superleggera, it's not forgetting the three-door. A new entry-level MINI One has now been added to the range – starting from £13,750 – and Auto Express has driven it.
The old MINI One featured a naturally aspirated 1.6-litre engine, while this car gets a 1.2-litre three-cylinder turbo developed from the 1.5-litre found in the MINI Cooper. It delivers 101bhp, which is only slightly up on the old car's 97bhp figure.
Press the MINI's red ignition switch and you'll be surprised by the deep noise of the three-cylinder – it's clear BMW engineers have tried to make even this entry-level MINI sound sporty. We didn't notice any of the usual roughness or vibration associated with three-cylinder engines, either, unless we were causing the car to struggle by selecting a higher gear than we should have.
Performance is much better than in the old car – not on paper but when it comes to in-gear acceleration. While the old naturally aspirated engine only really got going at about 3,000rpm, this new turbo kicks in between 1,400rpm and 4,000rpm. This means less hunting around the gears – not that it's muchof a problem considering the accurate shift – and a feeling that you've got more of the power available when you need it. In reality, the 0-62mph time has only dropped from 10.5 seconds to 9.9, but it feels so much faster than that.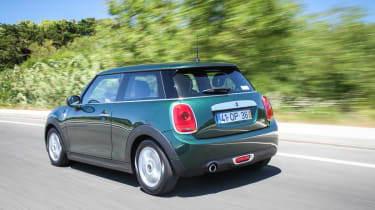 The new turbo will be a lot cheaper to run, too, promising 61.4mpg economy and 108g/km emissions. These are improvements of around 10mpg and 20g/km over the old One, and the latter saves you £90 a year in road tax alone.
For a car that sells on style, the One's standard 15-inch steel wheels don't catch the eye in a good way; it's worth paying £520 to upgrade to some of the more stylish 16-inch designs.
And if you want the green paint finish on our car, that'll set you back an extra £475. The only no-cost paint options are white and Volcanic Orange.
The interior has the high-quality feel you'll find in any other MINI, but you may have to splash out more if you want the style of higher-spec models. The white accents in our test car, for example, are £225 extra and the multifunction sports steering wheel is £375. Still, you get a decent haul of standard kit, like air-con, Bluetooth, DAB radio and keyless go.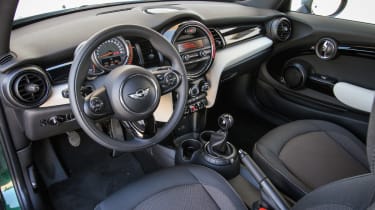 The One has a nice, low-slung driving position, but we found the handling couldn't quite live up to that of other MINIs – even with the optional MINI Driving Mode set to Sport. While this sharpens throttle and steering response, the skinny, low-rolling-resistance tyres hold the car back. You still get the kind of instant turn-in you expect from a MINI, but as you lean on the tyres in bends, it understeers a lot sooner than a Cooper.
In every other way, the One feels near-identical to more expensive MINIs. It has the same 211-litre boot, plus rear seats adults can actually squeeze into. It's also a lot more comfortable than before, especially over bumpy roads.
If out-and-out handling isn't crucial to you, the MINI One looks a far better proposition than ever. Its performance feels closer to the rest of the line-up and there's a handy £1,550 saving over the Cooper. It doesn't necessarily look the part, but at least you've got some extra money to splash on stylish options.