MINI Cooper 5-door review
First UK drive of the new MINI Cooper 5-door, which offers extra practicality over the 3-door
Whether you like the styling or not is up to you, but what the MINI offers that none of its rivals can is a quirky character and sense of fun – and the Cooper 5-door embodies that better than any other model in the range. The price increase of £600 for an extra two doors is justified, considering the MINI's lost none of its character and gained a more practical package.
Given that 70 per cent of sales in the small hatchback market are 5-door models, it's extraordinary that it's taken MINI (under BMW ownership) 13 years to cotton on. But now it has, it's hoping to smash sales records for years to come – and key to the 5-door's success are the MINI Cooper and Cooper D models.
Expected to jointly account for 50 per cent of 5-door sales (roughly a 20/30 Cooper/Cooper D split), these are the two pillars of the range and should combine impressive fuel economy with just enough poke to exploit the MINI's talented chassis. We tried the Cooper, which has proved to be the sweet spot in the three-door range.
Whereas the Cooper S and Cooper SD 5-doors we've already driven use 2.0-litre four-cylinder engines, the Cooper gets a new 1.5-litre direct-injection turbocharged petrol engine with only three cylinders, but you'd be hard-pushed to tell. With 220Nm of torque available from 1,250rpm it feels much more muscular than you'd expect, and revs surprisingly smoothly with a cheeky rasp from the exhaust.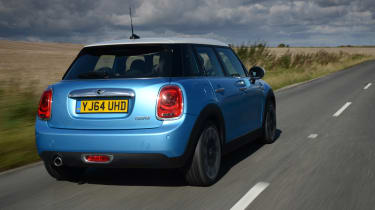 All that low-down torque means the engine is in its element whether you're cruising in a high gear or pulling away quickly in stop-start traffic. The lack of vibrations add an air of sophistication to proceedings, but if you're feeling frisky it's happy to rev to the redline and builds big speeds with ease. Throw in economy and emissions of 60.1mpg and 109g/km and this is a truly superb engine.
It's not let down by the rest of the package either. The steering is about as good as modern electromechanical systems get – light, direct and you can even feel it loading up slightly in faster bends. It might have gained a 72mm longer wheelbase, but the 5-door feels just as playful in the corners, gripping hard and staying flat even when you chuck it around. The manual gearshift has a short through and a fantastic mechanical precision to it, too.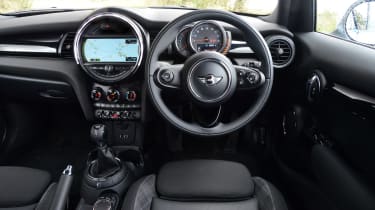 Our test car was fitted with optional 17-inch 'Roulette' wheels (£450 extra), in place of the standard 16-inch rims, but despite the occasional low speed thump they didn't spoil the ride; while it's certainly firm, it never feels uncomfortable.
Although the MINI 5-door is targeted squarely at young families, don't buy one expecting a hugely spacious interior. It's worth remembering its direct rival is the Audi A1, not the VW Golf, and in that respect the rear legroom, 278-litre boot and small rear doors stack up well.