MINI Cooper SD 5-door hatch review
New, more practical MINI serves up fun with fuel efficiency
Cooper SD or Cooper S? The petrol engine offers sharper acceleration and a cheerful exhaust noise, but this SD is just as much fun and much more frugal. It's not the most practical hot hatch by far, but it does offer the character and fun that's missing in cheaper and more expensive rivals.
If the power and practicality of the new five-door MINI Cooper S whet your whistle but you have an aversion to fuel stations, then this MINI Cooper SD is just the ticket.
The price is up by £795 to £20,050 before options, while 0-62mph drops from 6.9 to 7.4 seconds. You also lose the delicious pops and crackles from the exhaust, but that's the end of the bad news.
There's more torque for greater in-gear shove, while economy with a gentle right foot is claimed to be 68.9mpg – a useful 21mpg more than the petrol car. Emissions drop from 136g/km to 109g/km, pleasing company car users and private buyers alike.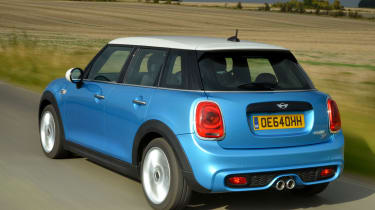 But for the (perfectly pleasant) diesel growl rather than petrol roar, the SD feels every inch the fast, fun MINI. There's excellent grip, light and pointy steering and plenty of poke, if not from the moment you shove your foot down hard on the throttle.
This latest MINI is well deserving of our Car of the Year title due to its more comfortable ride (unless you select Sport mode in the active set-up), impressive quality and high-end tech options – although they're pricey.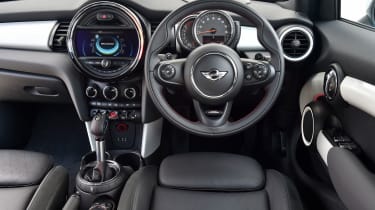 With 72mm more space between front and rear wheels, there's surprising space in the rear seats for two – three if you're pushing your luck. Access is a little tight through those dinky rear doors, while the boot – although bigger than the three-door's – isn't huge.
That extra length doesn't harm the MINI's looks too badly. It's not quite as cute as the three-door, but not enough to put the many people off who MINI says it's missed out on by not offering a five-door version of its hatch.
A MINI will never offer the most space in its class, but for potential buyers who want a touch more room, it scores well.